Employment Types are an easy way to track people who have similar benefits and/or roles. People can be assigned to a specific Employment Type and reports can be run for everyone who has the same Employment Type. Additionally, ClickTime supports Overtime rules, which are determined by the person's Employment Type.
Please note: Basic Accounts are limited to 5 active Employment Types. If you need to track time for more than 5 types of Employees, please contact ClickTime Support to discuss upgrading to a Corporate account.

After loading the section of the page you are interested in, use the "Edit Section" options to go into edit-mode, and then click "Update" to save your changes. You can go back to the Employment Types List page at anytime using the link at the top.
For more information on Overtime, please see the Overtime Guide.
To access the Employment Details List View page, go to Company --> People and then click the "Employment Types" link at the top of the page: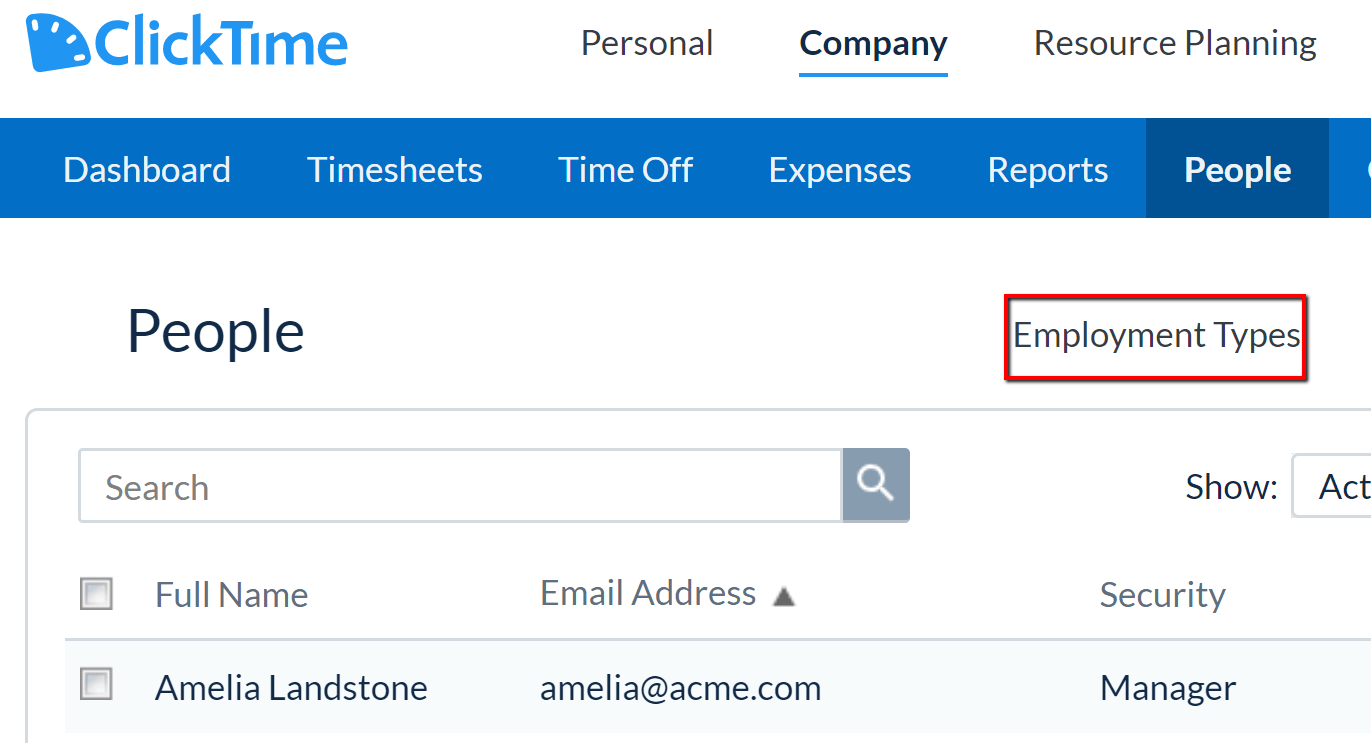 To skip to a different part of this guide, use the links below:
Employment Type Details
Leave Type Availability
Assigned People
Overtime Configuration
Noting Employment Type from the Person Details page
Reports
This is where you identify the name of the Employment Type.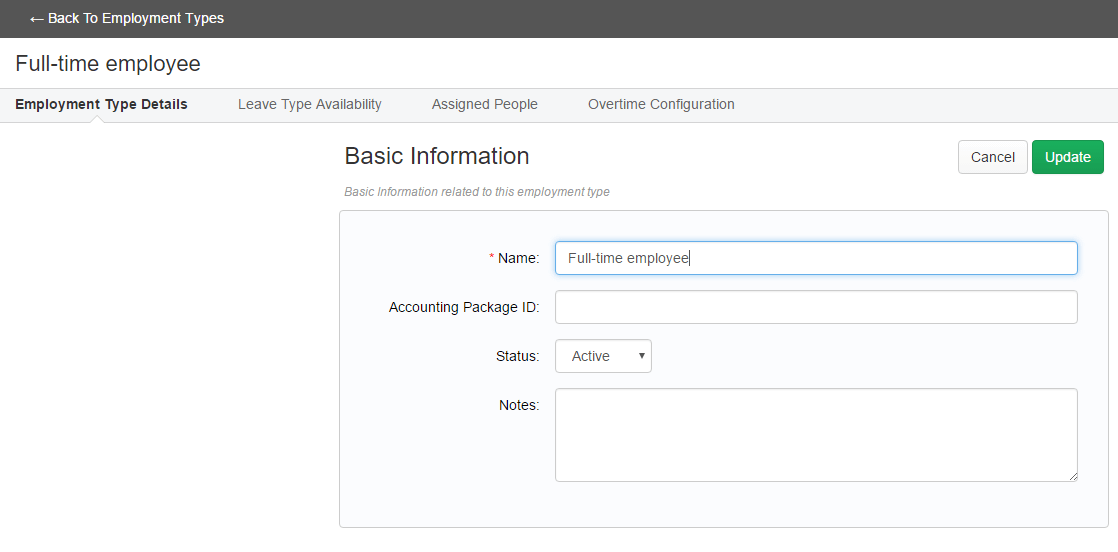 You can also specify the following:
Accounting Package ID: Useful when exporting data for accounting integrations - enter your accounting software's corresponding ID value for this Employment Type.
Status: Use this to set the Employment Type as active or inactive. You can mark an Employment Type as inactive without changing the association, but only active Employment Types will display as an option on the Person Details page.
Notes: Use this field to keep internal notes related to the Employment Type.
This is where you can indicate which Leave Types will be available to people in this Employment Type if you have turned on Leave Type List Controls from the Company --> Preferences page (more details here).

When you go to the "Leave Type Availability" tab on the Leave Type Details page, only the active Leave Types will display.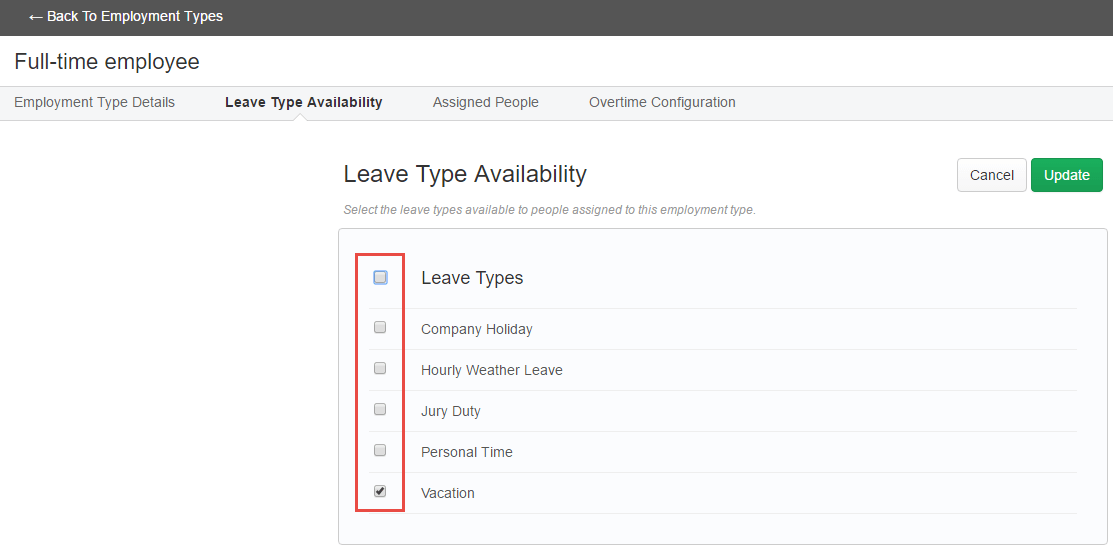 Check the appropriate boxes and click "Update" to assign the Leave Types to the Employment Type. This can also be done on the Leave Types Detail pages (available from the Company --> Preferences page).
This is where you can view which employees are a part of this Employment Type, or assign current People to the appropriate Employment Type.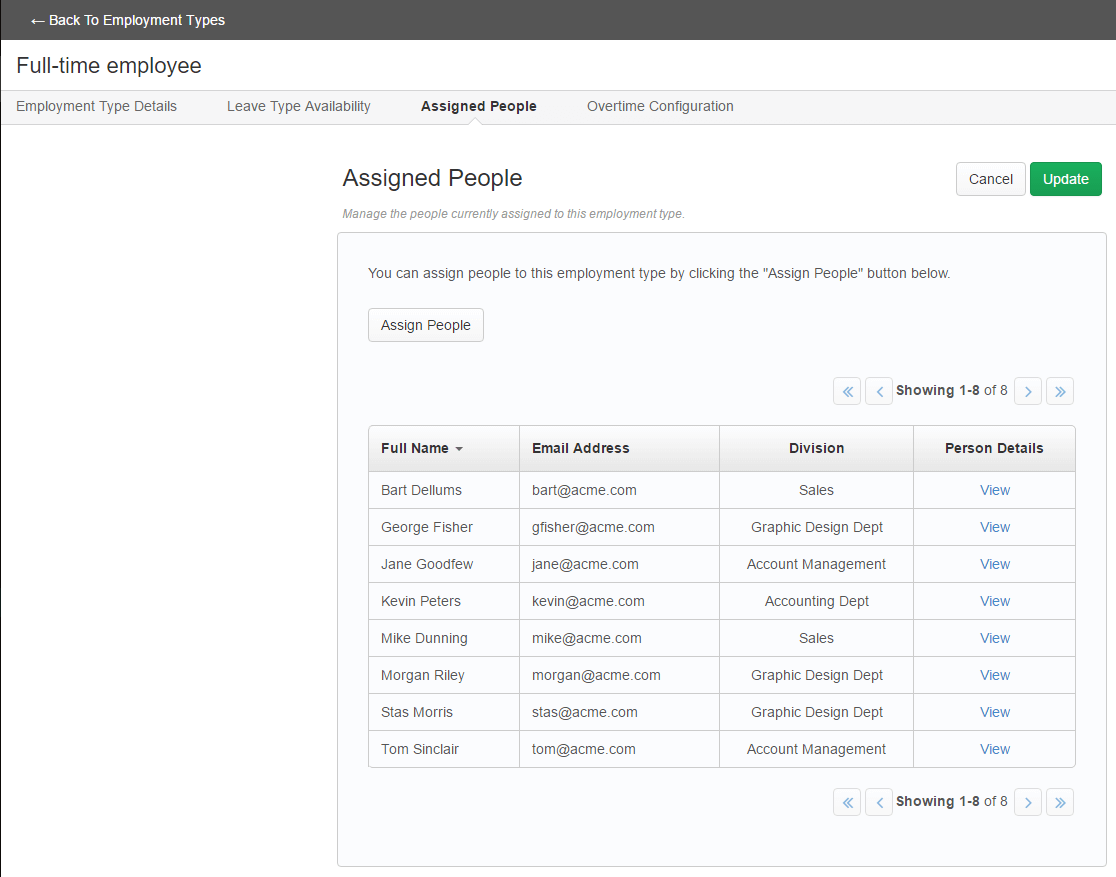 Click the "Assign People" option to see a pop-up window that shows your active employees.

By default, it will show you those employees who are not a part of this Employment Type, although you can choose to include them in the list if that is helpful: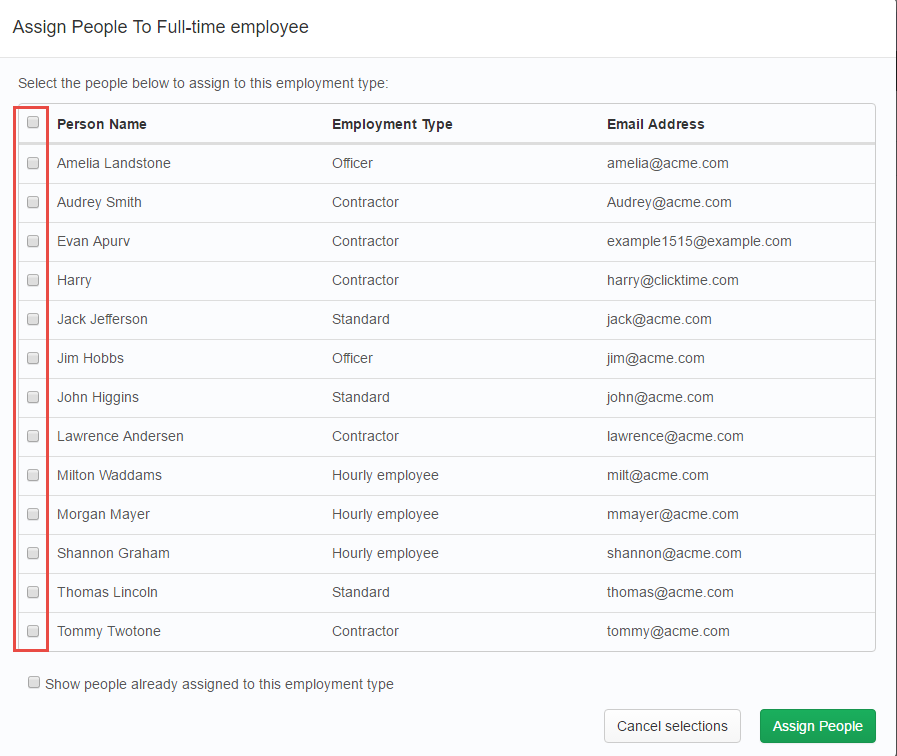 You can change a person's Employment Type from their Person Details page by removing them from their current Employment Type. This can be done using the "View" link on this page: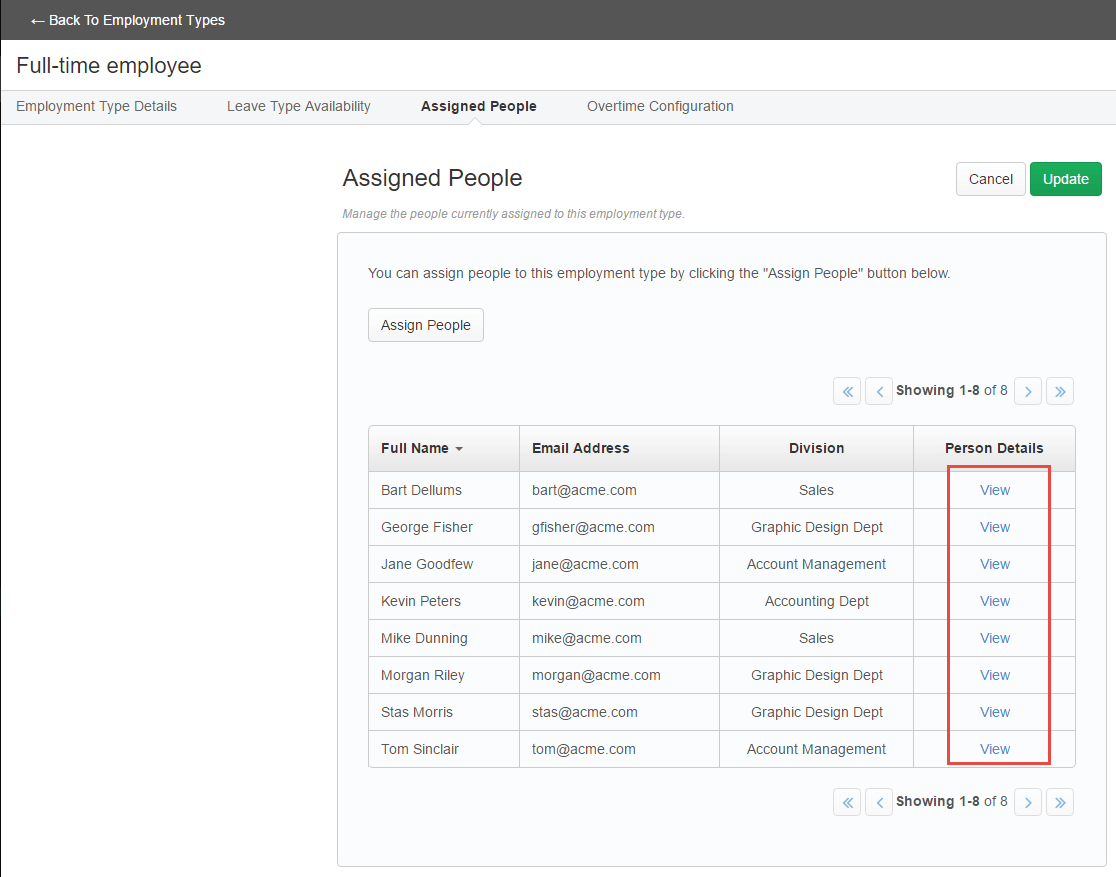 Additionally, if you assign them to a new Employment Type, that will also change their Employment Type. More details on using the Person Details page can be found in this section of the guide.
This is where you set up the Overtime rules for the Employment Type.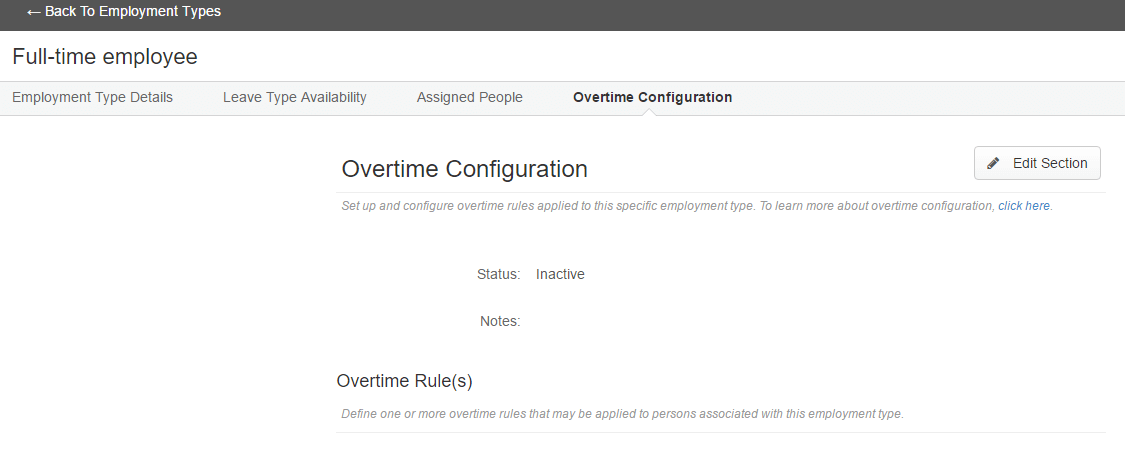 For comprehensive instructions on setting up Overtime, please see this guide.
Noting Employment Type from the Person Details page
In addition to adding people to the Employment Type from the Employment Type Details page, you can also do this on a person-by-person basis on the Person Details page. From Company --> People, click the "edit" pencil icon to open up the Person Details page. Then "Edit" the Basic Information section and set up that employee's Employment Type: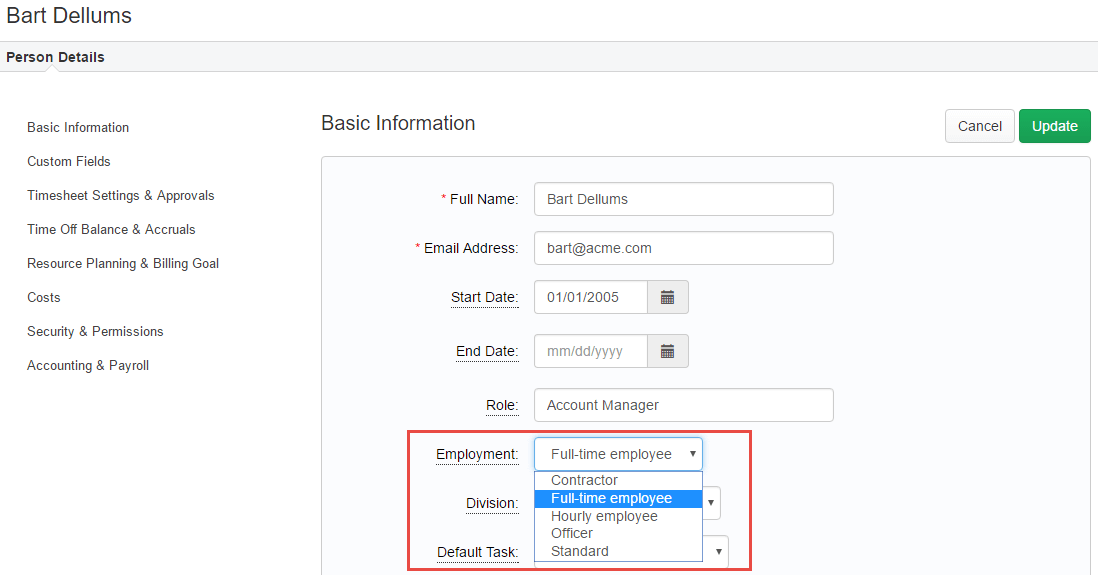 When running reports in the "People" section of the Company --> Reports page, you can choose to run the report for everyone in the same Employment Type: