ClickTime offers a method to quickly change specific time entries that have been entered by one (or several) employees to another time entry. This can be useful if you realize a team has been using an incorrect Project, if duplicate options existed at some point, or if process changes and you need to update older time entries for consistency. The option is found in the Company --> Advanced page: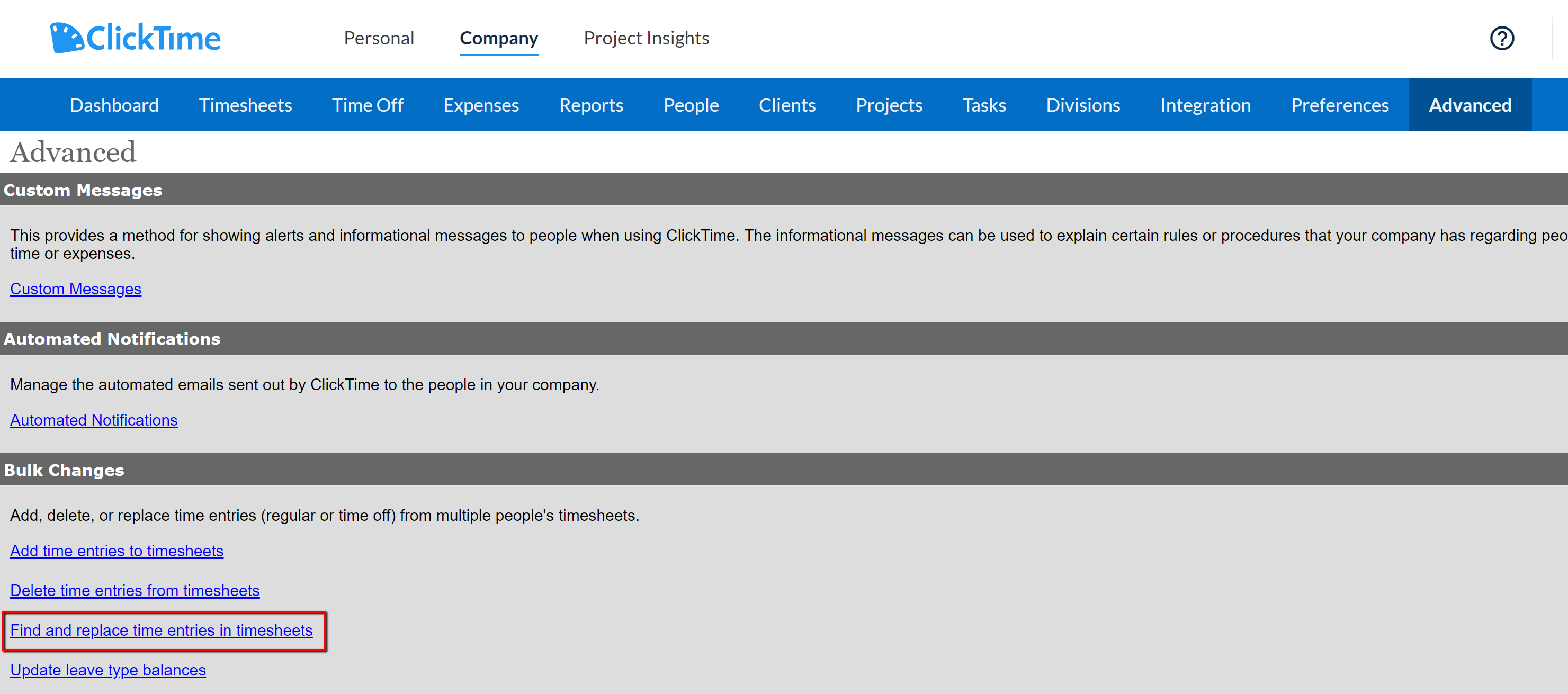 Please be aware of the following before using this feature:
Any time entries in the time frame will be affected, including Locked time entries
ClickTime does not support a method to reclassify Worked Time as Time Off, or vice-versa. You can only replace a Worked Time Entry with another Worked Time Entry, and you can only replace a Time Off Entry with another Time Off Entry
Find/Replace cannot be undone. You can change the time entries back if you realize you did something in error but there is not an "undo" option
There is not a method of moving (Approval Not Required) time off to (Approval Required). In these cases, we recommend a manual fix of first adding the (Approval Required) leave to an employee's timesheet using the "Add Approved Time Off Entry" workflow (see here). Then remove the previous (Approval Not Required) leave using the "Bulk: Delete Time Entries" option (see here) OR by using a Timesheet Override (see here)
You cannot modify the hours for the time entries - the feature will only change the Project/Task or Time Off type to something else
In this example, we have several employees who logged hours to the wrong Project in March. Specifically, the "Spring Branding" Project was used instead of the "Spring Advertising Campaign" Project.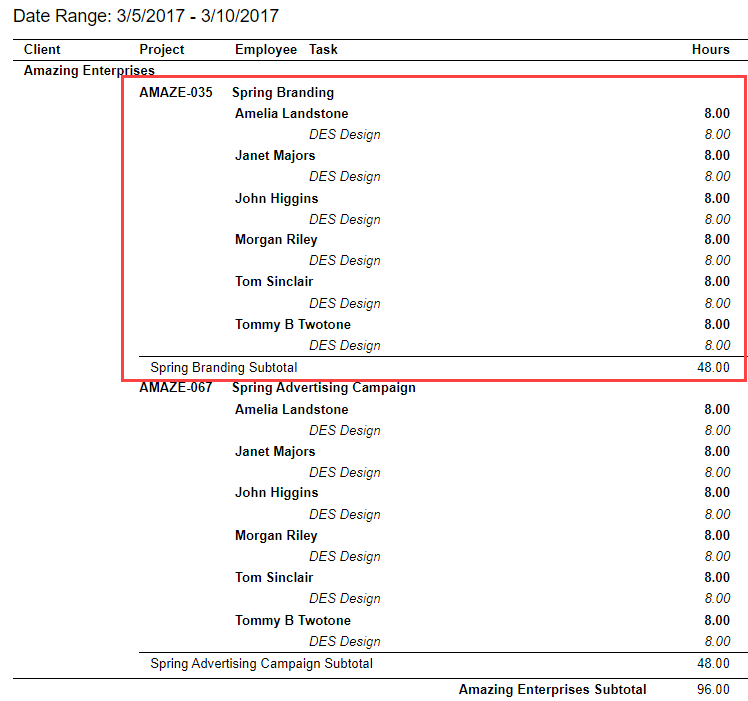 First we will set the date range for the update: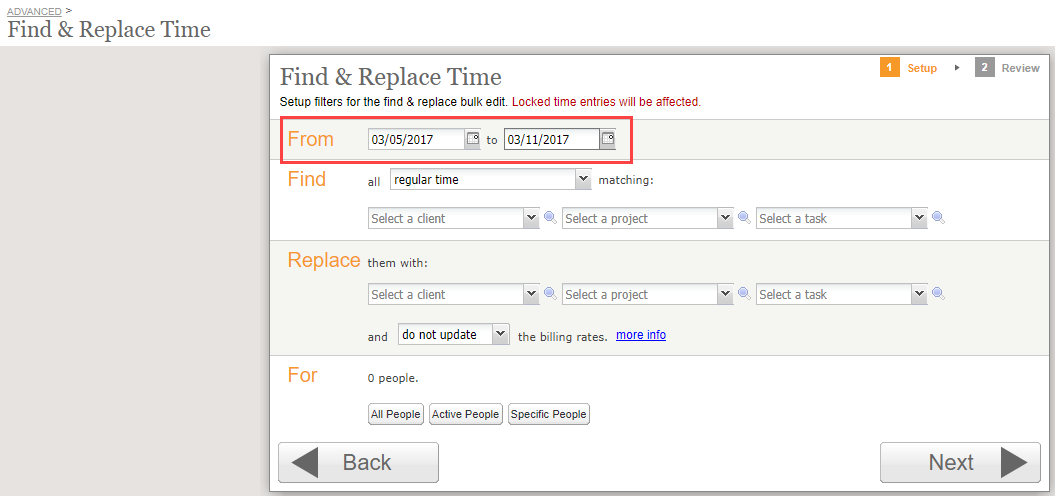 Next, indicate if you want to find "regular" (worked) time entries or Time Off entries:

Now you will indicate which time entries need to be changed by selecting the Client/Project/Task you are looking for. Notice there are options to include "All Clients", "All Projects" within the same Client, as well as "All Tasks". In this example we are looking for all time entries logged to the Client/Project regardless of Task.

NOTE: if you do not see the Client/Project/Task you are looking for in the drop-down menu, you can always use the magnifying glass to open a search window: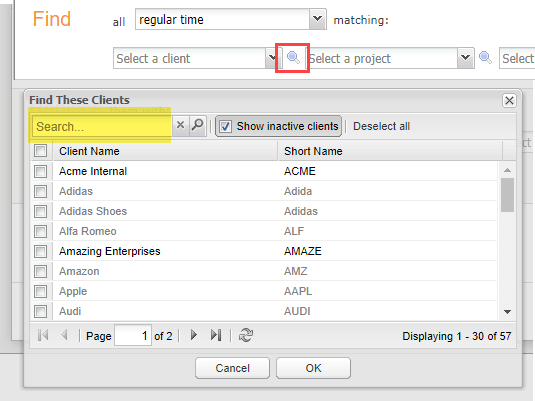 Now indicate what these time entries should be changed to. In this example we are changing the time entries to Client/Project but keeping the Task unchanged.

In this case we are changing the default setting so that Billing Rates will also be updated. When we choose to "update", that means that the time entries in the system will have the Billing Rate changed to match the new Client/Project (if applicable).

Finally you will want to choose if this should be applied to "All People" (regardless of whether they are active or not), "All Active People" in your account, or choose "Specific People". We will do this for everyone in the "Graphic Design" Division.

Then click "Next".

The next page will review the changes you'd like to make and let you know how many time entries this will affect. Click "Finish" if this looks correct.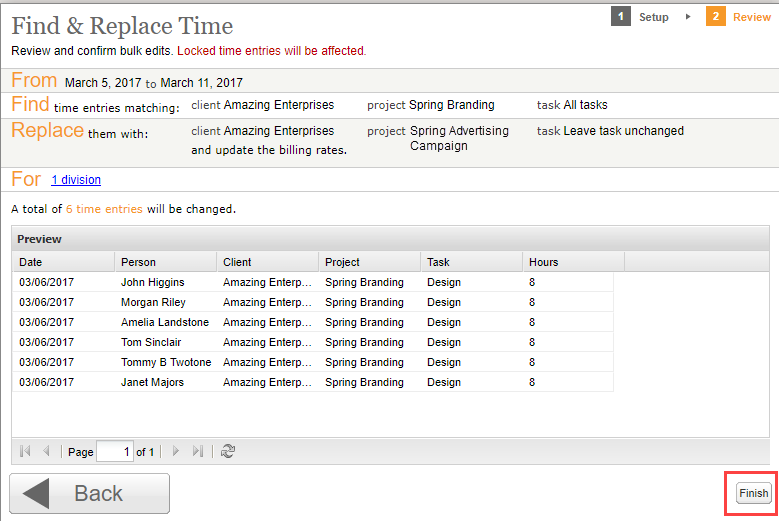 You will see one last warning that this cannot be undone. Click "OK" to proceed: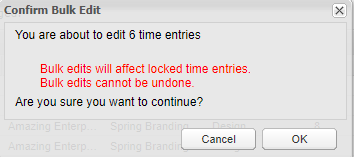 You will be returned to the Company --> Advanced page and be informed that the system is working on the updates. The system will make the changes in the background so you can continue to use ClickTime.
You'll receive an email letting you know the bulk edit process has started, and another one when it has finished. If you need to make several Find/Replace edits, you will need to wait until the process is finished before moving on to the next set of changes.