Please use the links below to review the answers to some of our most Frequently Asked Questions. This guide is intended for people who need assistance accessing ClickTime or using the time entry functions. You can use the links below to skip to the appropriate section of the guide. If you do not see your question below, please contact support@clicktime.com with more details and we'll be happy to assist.
For assistance with Manager and Administrative functions, please see the Administrator FAQ.
Most ClickTime customers log into ClickTime by entering their unique email address and password into the login page at https://login.clicktime.com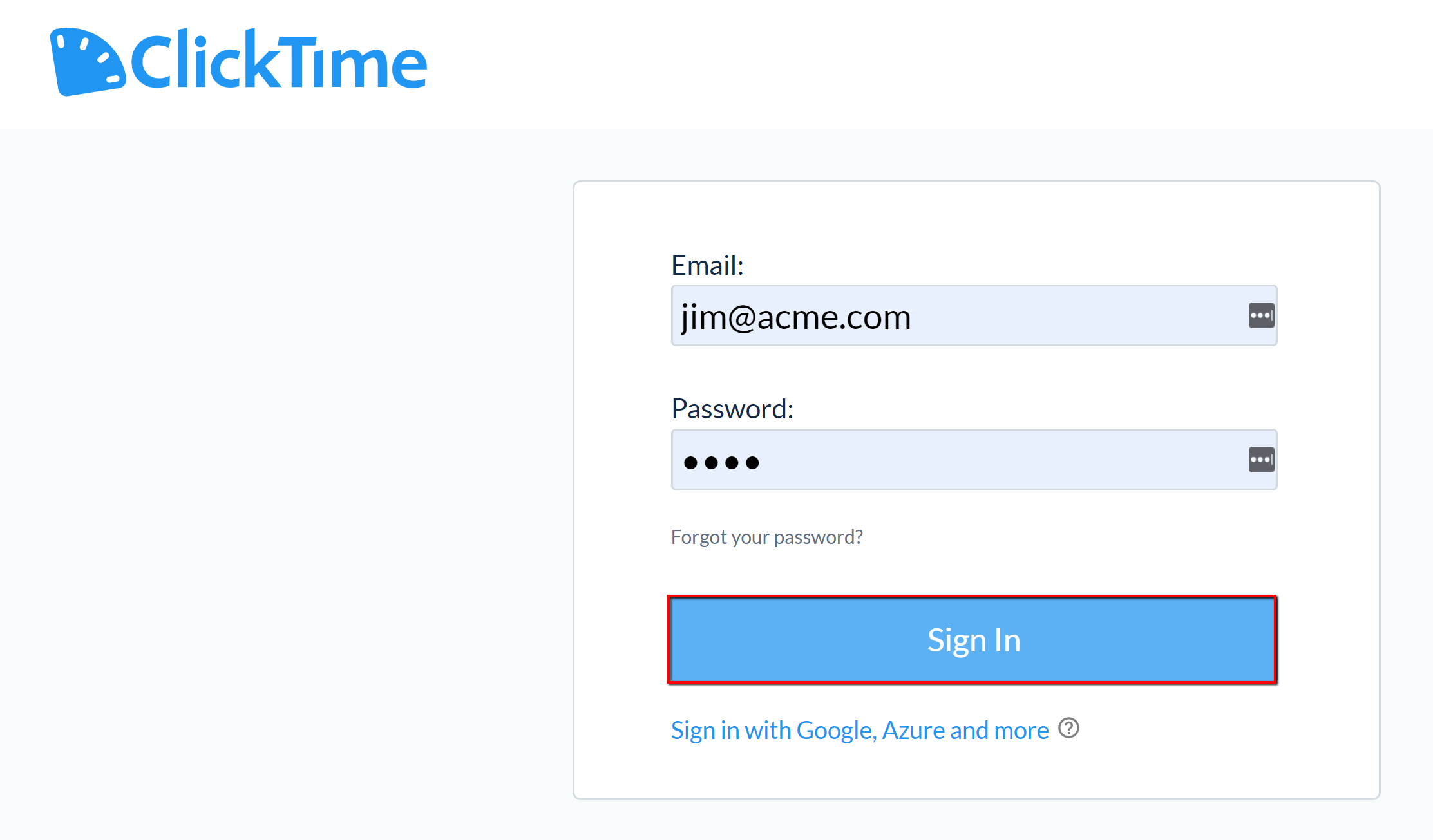 Some organizations may use a third-party Single Sign-On method to log into ClickTime as well. We recommend checking the Logging Into ClickTime Guide if you need assistance with accessing ClickTime.
What Are the System Requirements and Supported Browsers for using ClickTime?
We typically support the most recent versions of the Chrome, Safari, Firefox and Edge browsers. More information on supported browsers and current system requirements can be found here.
Time can be entered in ClickTime via the Day View and Week View time entry pages. We also have a Mobile Application for iPhone and Android devices. These guides may be helpful
Since ClickTime is highly customizable and used by a variety of different organizations, each organization is expected to train their staff on how to best enter time for their account. If you are not sure how to track your time, please contact your supervisor (or whoever initially set you up with ClickTime access) for personalized training.
If you are a ClickTime Administrator for your account and would like to commission a training session with our Professional Services Team, they are available to do so on an as-needed basis. There are additional costs associated with Professional Services training sessions - you can use this web form to engage with the team and discuss setting up a training session.
Why Don't I see the Client / Project / Task I Need to Log Time To?
The options you see when entering time can be set up in a variety of ways by your local Administrator, so the answer to this question will depend on your account settings.
By default, each individual can choose the Projects and/or Tasks they see for time-entry options from the My Projects or My Tasks page(s). If you have access to these pages, you should be able to add the appropriate Client/Project or Task from these pages:

In some cases, you may see the Client listed but are told there are "No Projects". In this case, your local Administrator/Manager has created the Client but has not yet added Projects to the Client. In order to log time to a Client, there must be at least one active Project associated with the Client.

If you do not see the My Projects or My Tasks pages, that means your organization is set so that the local Administrator(s) or Manager(s) determine which Clients/Projects or Tasks you have access to. If you do not see the appropriate Client/Project or Task in your drop-down menus, please reach out to them directly and ask that they update your settings.
Administrators and Managers can refer to the Project Availability, Task Availability, and Company Preferences guides for more details on how to manage these settings.
How Do I Track "Time Off" If I Do Not See That Section of the Time Entry page?
Most organizations use ClickTime's built-in Time Off options. If you are in an account that has access to Time Off, you will see this option below your worked time options on either the Day View or Week View pages: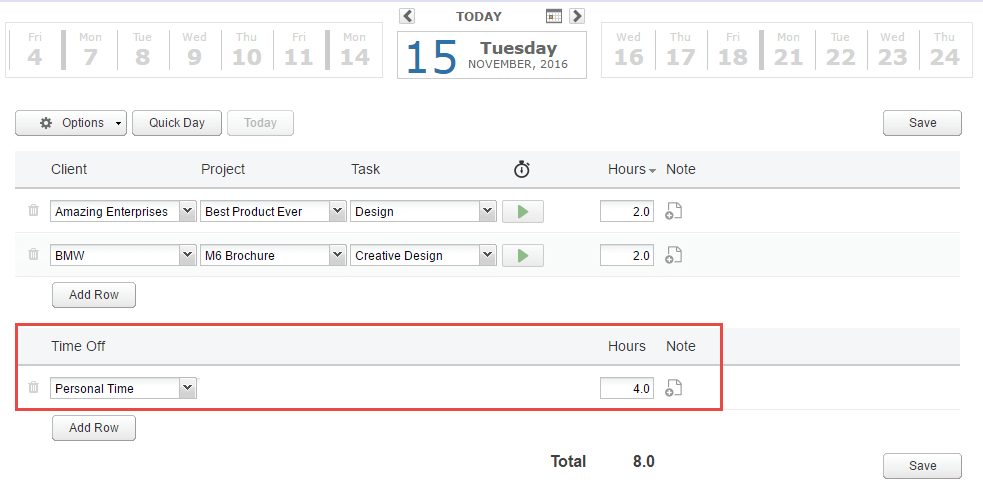 If you do not see the "Time Off" section of the Time Entry pages, your organization has either determined that you should not be tracking Time Off at all, or would like you to do so via another method. Please contact your supervisor or local ClickTime Administrator for guidance on the best way to track the time off you take.
How Do I Show Weekends (Saturdays & Sundays)?
By default, Saturday and Sunday will not be displayed on the Week View or Day View pages. The exception is that if you log into ClickTime on Saturday or Sunday, you will be given the option to log hours for that day.
If you'd like weekends to always show on your time entry pages, you can enable those using the "Options" menu on either the Day View or Week View pages as seen below: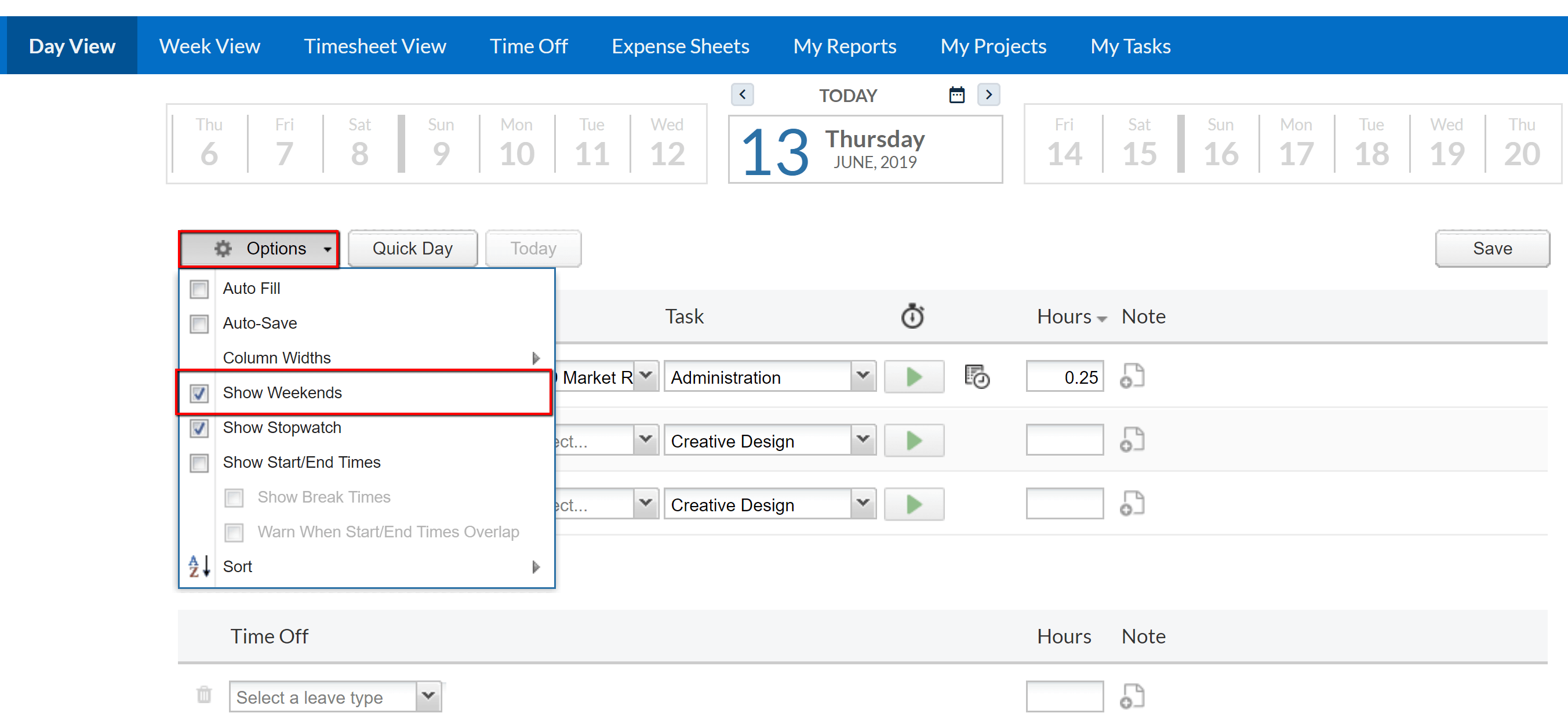 Please note that if you enter time on both the Day View and Week View pages you will want to "Show Weekends" on both Options menus.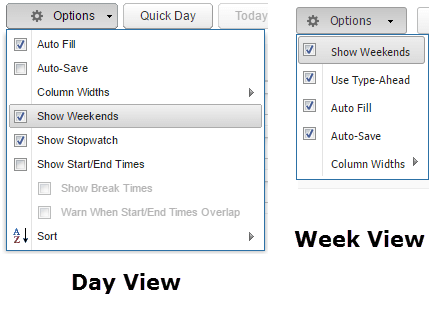 Why Am I Not Able to Submit My Timesheet For Approval?
In order to submit your timesheet, your organization must be using the additional Timesheet Approvals Module, and you must be set up with a Default Timesheet Approver from your Person Details page. Please see the Timesheet Approvals Guide here for details on using the module.
Organizations with a weekly timesheet model (who do not use Project Approvals) can submit their timesheet from either the Week View or Timesheet View page(s).

Organizations that have a different timesheet model (or use the Project Approvals Module) will have to submit from the Timesheet View page.

If you see the Submit option on either page, but are unable to submit the timesheet, you should get an error message with one of the following explanations:
Your organization is not using the Approvals Module
Your organization is using the Approvals Module but you are not currently set up with a Default Approver:




You are configured to submit your timesheet but have not entered the minimum number of hours per day/week to submit:


If you believe you are set up correctly to submit your timesheet but are unable to do so, please contact your local ClickTime Administrator or our Support Team for assistance.