ClickTime allows you to determine that an employee's timesheet is classified as "incomplete" if less than a certain number of hours have been entered. This guide will cover the different settings, the effect they have, and how to find employees who have not been entering enough hours to be considered "complete".
Setting the Incomplete Time Entry Settings
Effects of the Incomplete Time Entry Settings
Using the Incomplete Time Entry Options
Tracking Incomplete Timesheets Video
Setting the Incomplete Time Entry Settings
Each employee can be set up with an Incomplete Time Entry rule on their Person Details page: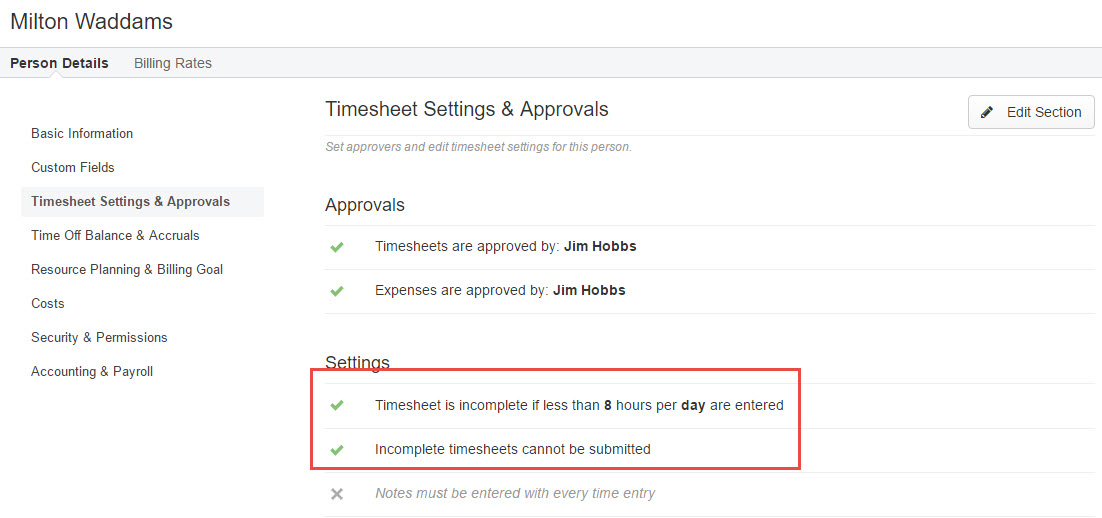 You can set a default setting for all new employees you add to the system from the Company --> Preferences page, which can then be changed on a person-by-person basis (more information on Person Defaults settings can be found here):

The rule can be set to a certain number of hours "per day" or "per week". If you choose "per day", the rules will be applied for weekdays (Monday - Friday). At this time we are not able to allow you to specify that certain weekdays should not be evaluated, or that weekends (Saturday or Sunday) should be included. If your employees are expected to log hours on Saturday or Sunday, we recommend using the "per week" requirement.
If you use our Timesheet Approvals Module, you can also choose to prevent an employee from submitting a timesheet if they have not entered the minimum hours required for the time period. Employees who have this option checked must log the minimum number of hours before their timesheet can be submitted.
Effects of the Incomplete Time Entry Settings
When an incomplete time entry rule is in place, the system will look at the total number of hours entered by the employee and determine if the timesheet is complete or not.
As mentioned above, if you use the "per day" setting, ClickTime will evaluate each Monday through Friday and make sure the minimum number of hours have been entered. If you use the "per week" setting and have a weekly or bi-weekly timesheet model, ClickTime will evaluate the total number of hours logged for each calendar week.
The system will consider both worked hours, as well as time off, when calculating the number of hours for the time period.
For those using our Approvals Module, the additional "prevent employees from submitting time" setting can make sure that someone has entered the minimum number of hours required before allowing them to submit their timesheet to their approver. If they have not, they will get an error message when they try to submit.
Employees can see their incomplete timesheet rule at the top-left of their Timesheet View page.

Incomplete timesheets will also have the hours highlighted in red within the Timesheet - they can scroll their mouse over the hours to see more details.

Using the Incomplete Time Entry Options
There are a few different ways the Incomplete Time Entry rules can be used:
Timesheet Review
Automated Notifications
Incomplete Time Entry Reports

When viewing the Company --> Timesheets page, ClickTime will show you if the timesheet is considered complete or not using a red X for incomplete or a green check for complete in the "Complete" column. Those employees who are not evaluated for completeness will not have any icons in the column.

Just as the employees can see their incomplete timesheet rule and see any situations where the timesheet is incomplete, the approver can do the same by clicking the "Details" pencil icon to view the timesheet.

From the Company --> Timesheets page they can also check the box next to any timesheets and use the "Send Email" option to let the user know that their timesheet is not complete.

They can then select the appropriate email template and send.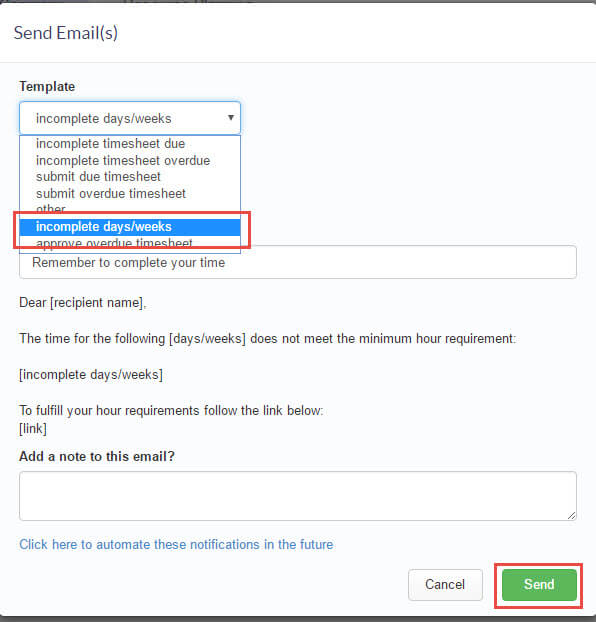 The next section of this guide covers how to set those notifications up to automatically be sent.
You can use ClickTime to automatically inform employees that they have not met their minimum number of hours via email. These notices are set up on the Company --> Advanced --> Automated Notifications page.

Determine if you'd like to send the email notifications before and/or after the timesheet period is over. The messages will be sent at 1 am (Pacific Time) on the specified day, and you can choose to "Exclude employees who must submit their timesheets from this reminder":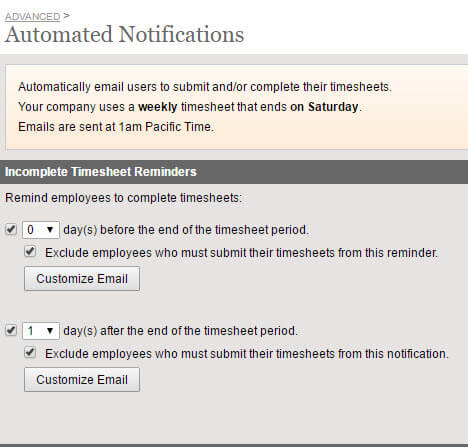 In the above example, we have a weekly timesheet that ends on Saturday, with messages being sent "0" days before the end of the timesheet period (Saturday morning) as well as "1" day after the end of the timesheet period (Sunday in this case).
To customize the message, click the "Customize Email" box: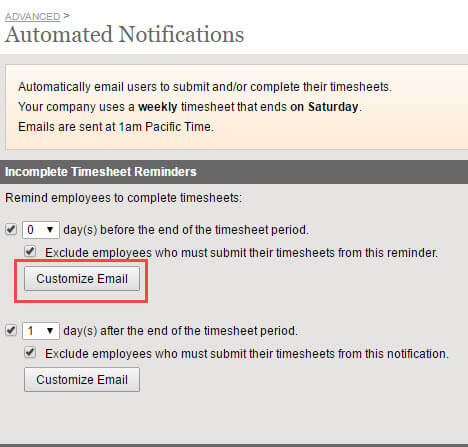 Next you can select the Email template you'd like to use, which Administrator the message should appear to come from, and the subject line you'd like to use. You can also add any specific notes (keeping in mind these will be sent to all employees so you would probably not want to mention any names/etc. in this section). Then click "Save".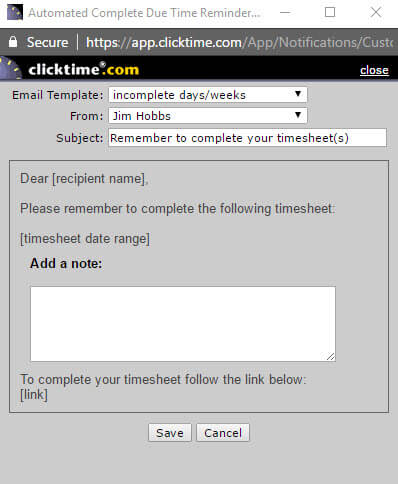 In situations where your organization is using a monthly/semi-monthly, or custom timesheet period, these messages can only be sent to those employees with an "hours per day" completion requirement. We are not currently able to evaluate completeness on a calendar week if you use a timesheet model that is not tied to calendar weeks. This will be messaged at the top of the page:

These messages will only be sent if the person has not entered the minimum number of hours.
ClickTime has a report that will show you which employees have not met their minimum requirements. In addition to the standalone report, there is also a Dashboard Panel version of the report.
The standalone report for Incomplete Time entry can be accessed from the Company --> Reports page in the "People" section of the page.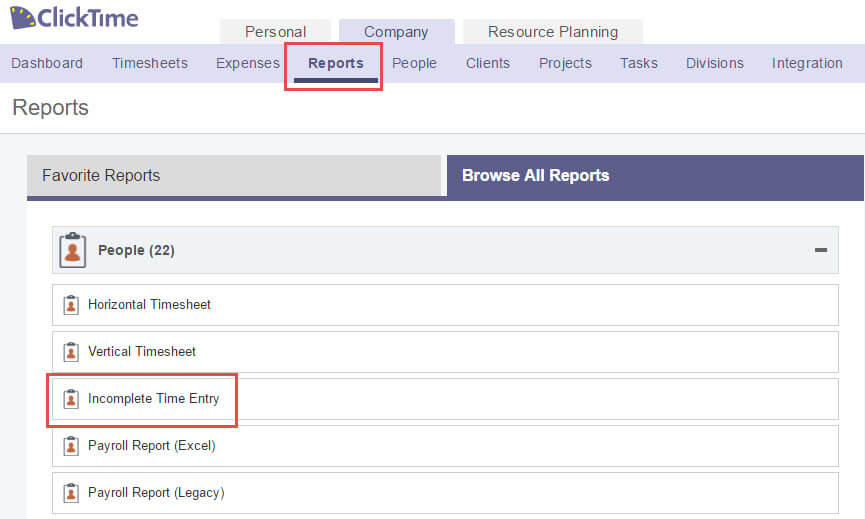 Click on the report name, and then "Run Report" to be brought to the report criteria page: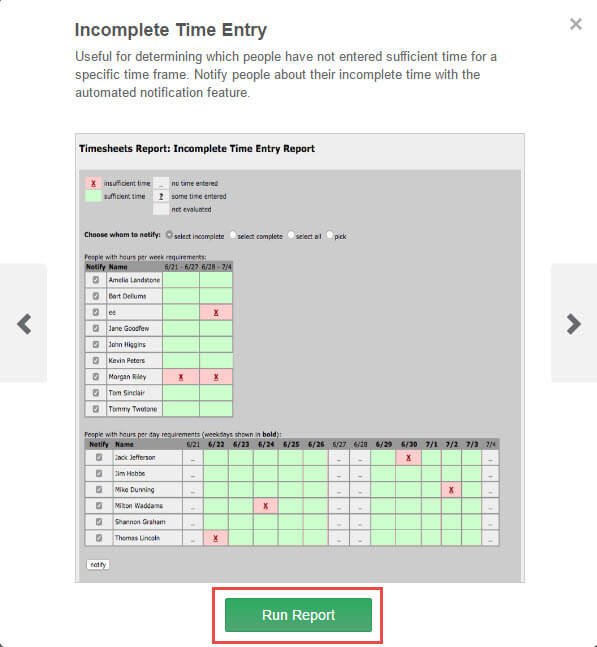 Then select the date range and employees you'd like to evaluate and click "Run Report".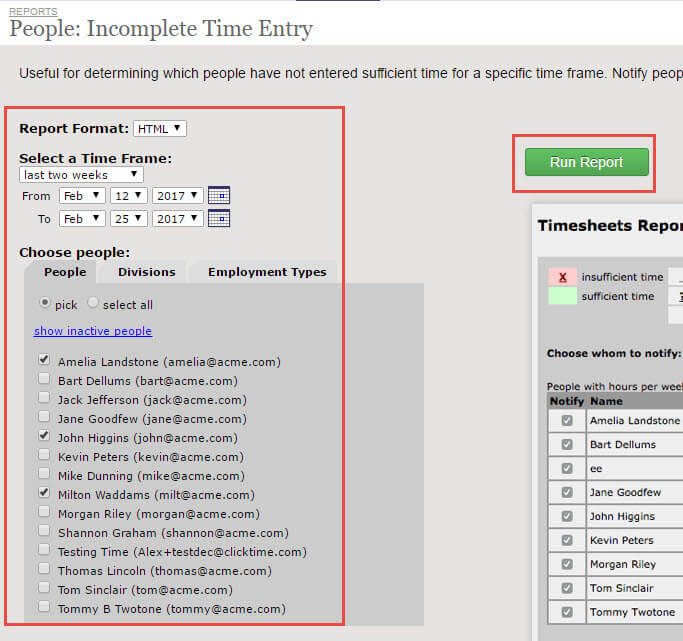 ClickTime will display the results by their incomplete timesheet rule (weekly and daily). Weeks/Days that are incomplete will be in red and weeks/days that are complete will be green. Those days that are not evaluated will be grey with a single line through it. Only employees who have incomplete time entry rules should display as options for your report.

You can then choose to send notifications to those employees by choosing if you'd like the system to "select incomplete", "select complete", "select all", or allow you to "pick". Click the "notify" button to choose the email template you'd like to use and send the message.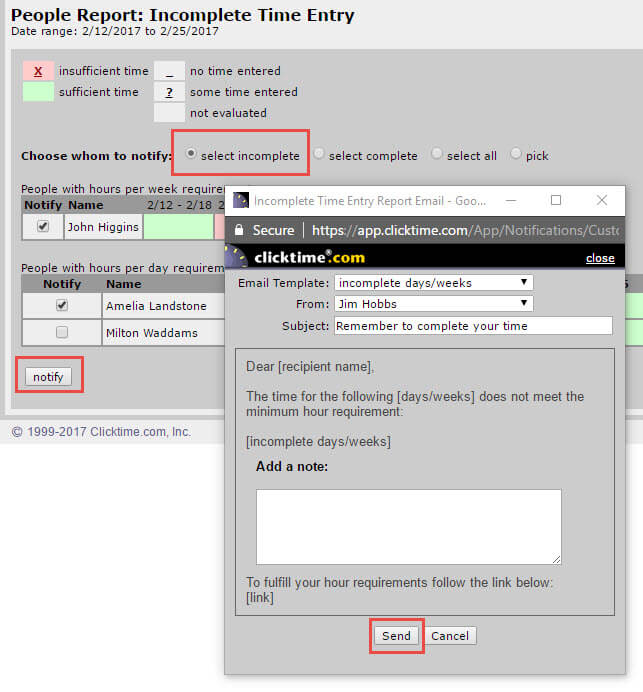 This report can also be set up to display on your Dashboard and report on just the employees you are interested in. If you do not see it, click the "Add Panel" at the top right of the Company --> Dashboard page and choose the "Time Entry Completion" report.

The panel will be added, and you can click the "gear" icon to specify if you are looking for this month or last month, as well as which employees you'd like to be included. There is an option to set it so it evaluates all those employees who submit their timesheets to you, or choose specific employees regardless of their timesheet approver: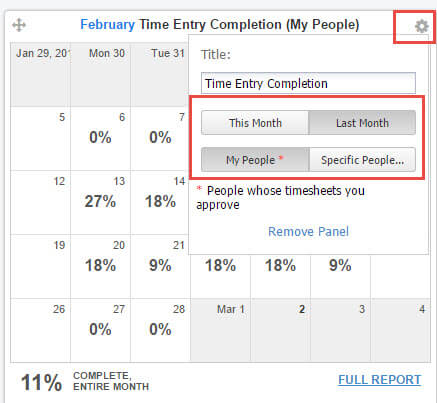 The monthly grid will show you the percentage of completion and you can scroll your mouse over to see how that percentage translates into employees: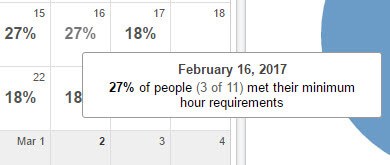 To see the results in more detail (and use the notify options) click the "Full Report" link.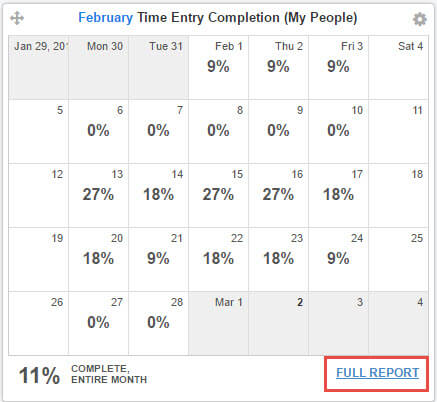 This will bring you straight to the results page (as seen in the section above) and allow you to "notify" whichever employees you'd like.