ClickTime Project Approvals allow for a two-tiered method of approving timesheets. When time is logged to a Project that requires approval, the local Project Manager is first notified to review and approve (or reject) those time entries. Once the time entries that require Project Manager approval have been signed-off on, the timesheet as a whole is then submitted to the Timesheet Approver for final review.
Project Approvals is currently only available to Premier and Enterprise customers. Please contact ClickTime Support if you are interested in a trial of the Project Approvals workflow.
Enable Project Approvals
Set Project Manager
Logging Time to Projects That Require Approval
Using Project Approvals
Undoing Submission
Project Approvals can be enabled by going to Company --> Preferences page. In the Timesheet and Expense Information section you can select the "Enable Project Approvals" checkbox (your company terminology may be different).

After doing so, click Save at the top or bottom to preserve the changes.

Additional Notes
Companies with DCAA Compliance features enabled cannot use the Project Approvals workflow.
Project Approval is not currently supported in our mobile application.
Enabling Project Approval will require employees to submit their timesheet from the Timesheet View page (more details here).
Users will not be able to deactivate Clients, Projects, or People via our SOAP API when Project Approvals is enabled.
Disabling Project Approvals from the Company Preferences (if enabled) will result in the loss of existing Project Approval data.
If a timesheet has Projects that need Approval, those Timesheets will not be accessible for Review until all Projects are approved.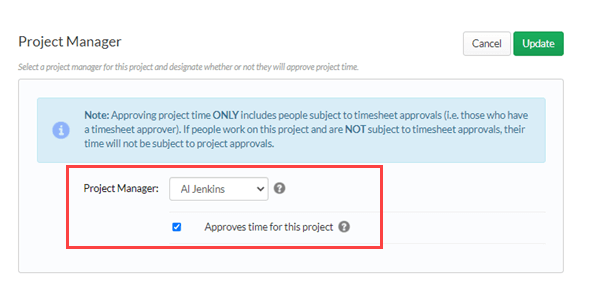 The "Project Manager" field will exist regardless of whether you are using Project Approvals. The Project Manager can be set on the Project's Details page, which is accessible from the Company --> Projects page and clicking on the "edit" pencil icon.

From the Project Details page, navigate to the Project Manager section to assign a Project Manager to the Project in question. The drop-down will include all Managers and Administrators for your account. Select the appropriate person from the drop-down.

If Project Approvals are enabled, you will also see an additional checkbox where you can indicate that this Project Manager should approve time for this Project.
Additional Notes
Only active Managers or Administrators will appear in the drop-down menu.
Only Managers who have the ability to approve time can be assigned to approve time for a given Project. More information on the different permission options can be found in this guide.
Logging Time to Projects That Require Approval
For the staff entering time, there is no difference between logging time to a Project that requires approval and one that does not. Staff can track their time as needed, and then submit their timesheet at the end of the timesheet period.
If staff do not see the option to "Submit" from the Week View page, that is likely because your organization is not using a weekly or biweekly timesheet model. Your staff can instead submit from the Timesheet View page.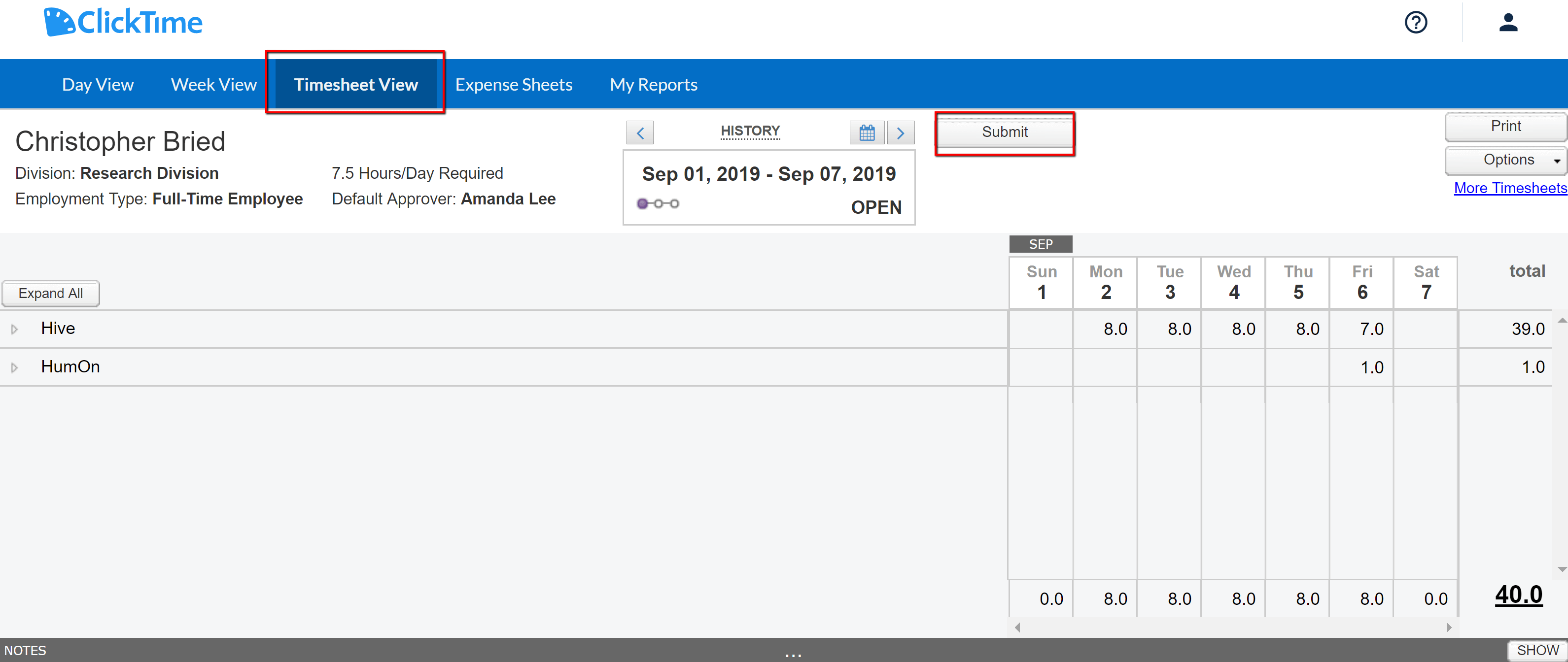 View Project Time That Requires Approval
If you are a Project Manager set to approve Project-specific time, you will receive an email notification whenever a timesheet contains time that you need to review has been submitted for approval.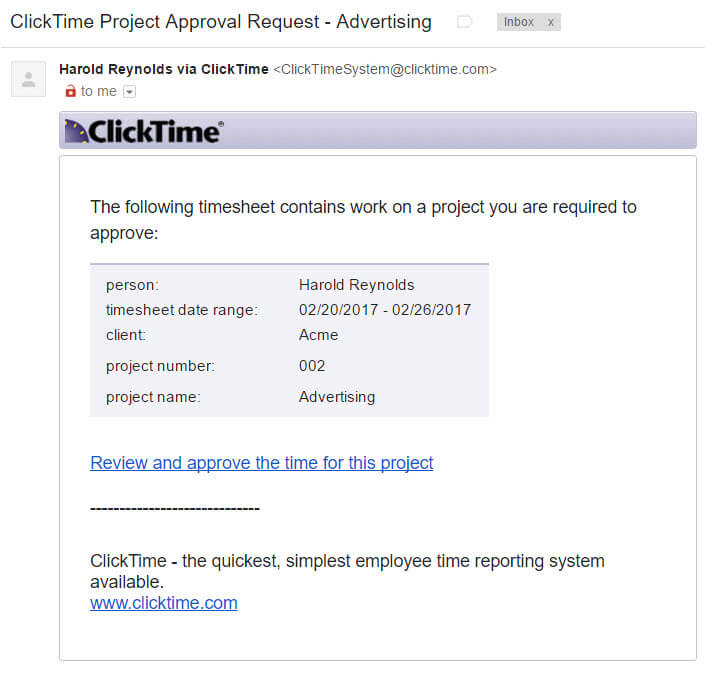 You can also review and approve Project time awaiting your approval at any point using the link that appears at the top of your Company --> Dashboard page:

or by navigating to the Timesheet Review page and choosing the Project Approvals tab from the Timesheet --> Review page. Notice there is a red icon to indicate whether or not there are Projects that are waiting for your Approval in those sections.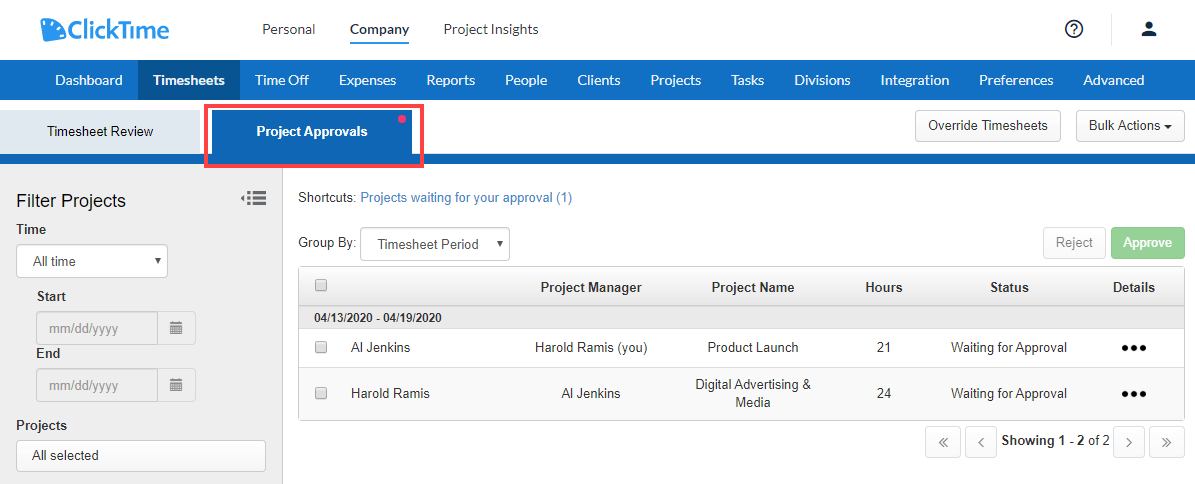 Review and Approve Project Time
Once navigating to this tab, you will see all Projects waiting for Approval. There will also be an option to only view those Projects with time awaiting your approval. Selecting this option will filter your options to only display time entries for Projects you are the Project Manager for.

Administrators will be able to approve all Project time, even if they are not listed as the Project Manager on the Project Details page. Managers will only see/be able to approve Project Time when they are the specified Project Manager.
After filtering by the appropriate Projects, you can then click the "Details" icon to see when the hours were worked:

You can then either "Approve/Reject" within the pop-up box: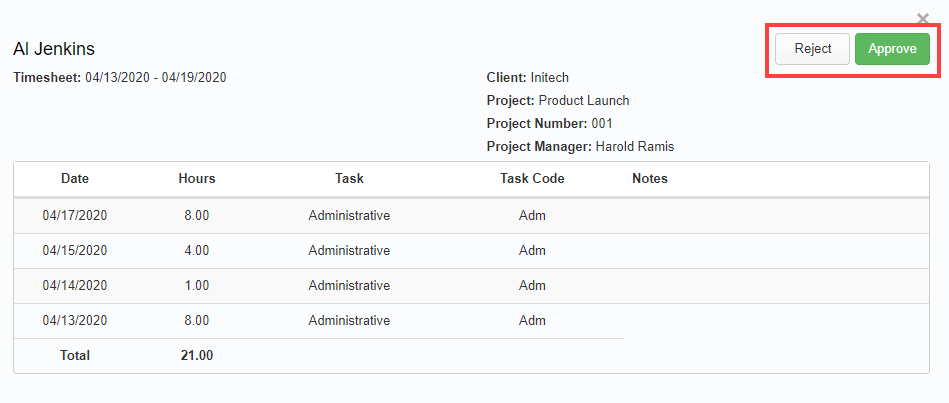 or close the pop-up and use the checkbox to select the Projects you would like to approve time for and use the Approve (or Reject) option at the top.

Once doing so, a dialog box will appear that will ask the Project Manager to confirm the approval/rejection of the Project time in question. This is where the Project Manager has the option to add comments before approving/rejecting the Project time.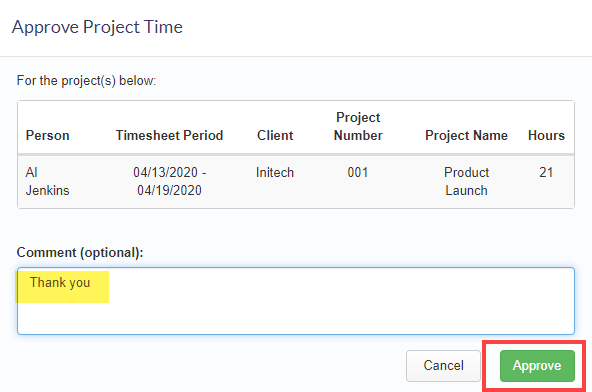 If you choose to Reject, an explanation will be required and the timesheet as a whole will be sent back to the employee to make edits and re-submit.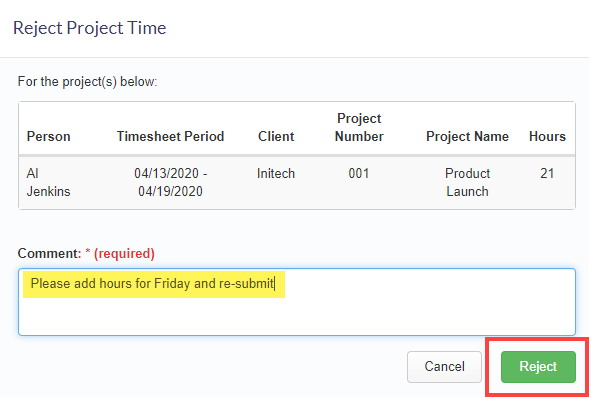 If you choose to Approve, and there is no other Project time that requires approval, the timesheet as a whole will then be sent to the user's designated Timesheet Approver for a final approval. The Timesheet Approver will receive an email notification that this time is awaiting their approval and is able to review this time by navigating to Company --> Timesheets --> Timesheet Review tab.

The Default Approver can then follow the Timesheet Approval process to review and approve/reject the timesheet as a whole.
Please note: The "Override Timesheets" function will not be available for timesheets that are in either a "waiting for approval" or "waiting for Project approval" status. Timesheets in either of these statuses will first have to be rejected in order to use this function.
Please be aware that employees will be able to use the "Undo Submission" option from the Timesheet View page for timesheets that are waiting for Project Approvals.

If someone uses this, that will revert the Timesheet back to an "open" editable status:

Any Project time that was approved before the employee used "Undo Submission" will be remembered by the system. When the employee submits the timesheet, approved Project time will be re-classified as Approved.
If additional hours that require Project Approval were added, or if any of the approval-required Project time has been changed, the Project Manager will need to re-approve the time.