In ClickTime, Tasks are used to describe time entered or the type of work that is recorded. Some examples of Tasks are: Administrative, Marketing, Research, and Proposals.
Remember, the term Task is customizable, so your organization may use a different term (such as Activity, Work Code, etc.). Terms can be changed by your local ClickTime Administrator at any time (more details here).
To create a new Task, go to the Company -->Tasks page and click "Add Task". The first time you navigate to this page, the Tasks that you see are pre-populated based on how your company was set up.

On the next page, enter a name for the Task (there is a 50 character limit for Task Names) and provide a Task Code. The Task Code is an abbreviation of the Task name, and will show on some reports instead of the Task's name. Task Names and Codes must be unique.

Other optional fields in the Basic Information section include:
Accounting Package Task ID: Useful when exporting data for accounting integration. Enter your accounting software's corresponding ID value for this Task. Accounting Package IDs do not have to be unique.
Status: Use this to set the Task as active or inactive. Only active Tasks can have time entered against them - data associated with inactive Tasks can still be displayed in Reports, but will not be options for time entry.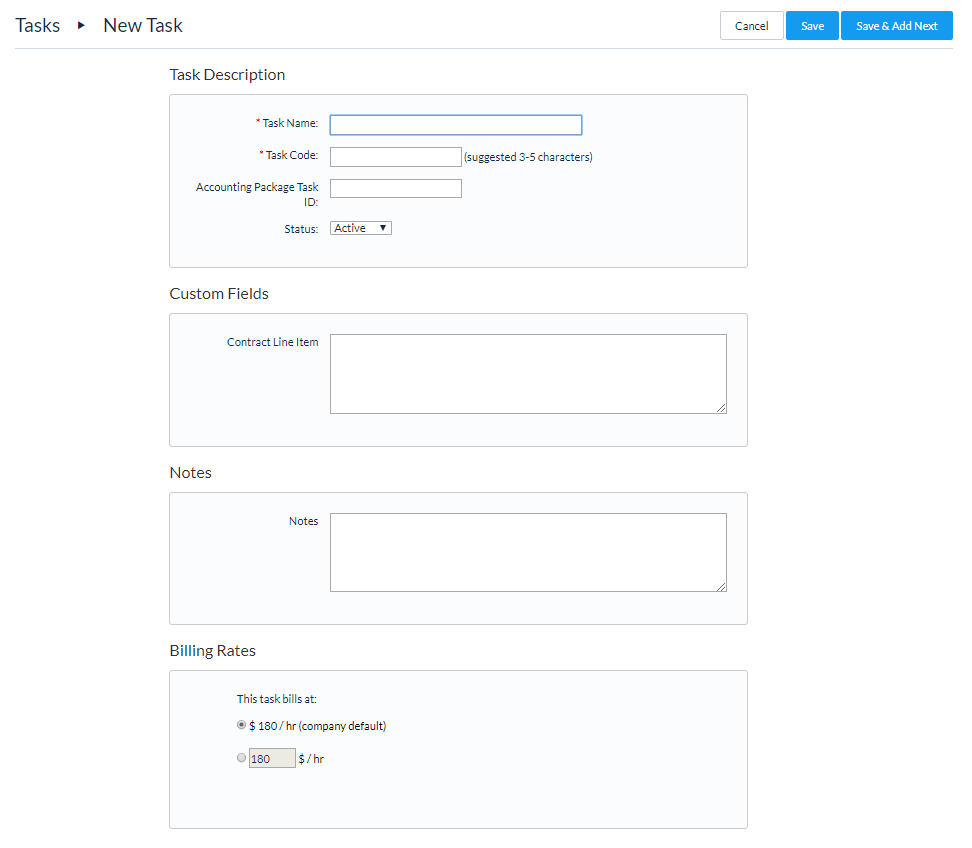 Other sections on the page include:
Custom Fields: If your company uses Custom Fields, the Custom Fields section will show under the Basic Information section. You must complete the ones that are required (*) prior to saving the new Task. Required custom fields are configured by your company. For more information on Custom Fields, please see here.
Notes: Use this field to enter any notes about this Task.
Billing Rates: If your company uses a Task-based billing rate, you can navigate to this section to set a fixed rate for the Task. Only Administrators, as well as Managers with "Add and Edit Billing Rate" permissions, will be able to add or update the billing rate for a Task. For more information, please see the Billing Rates guide here.
Click Save to save your new Task and to return to the Tasks List page. To Save and add additional Tasks, click Save and Add Next.
If your company's Task List settings are set to Client/Project, the Task Availability section is shown as an additional step for adding a new Task. You can navigate to this section to associate the Task with Clients and Projects. For more information on Task Availability, please see the Task Availability Guide here.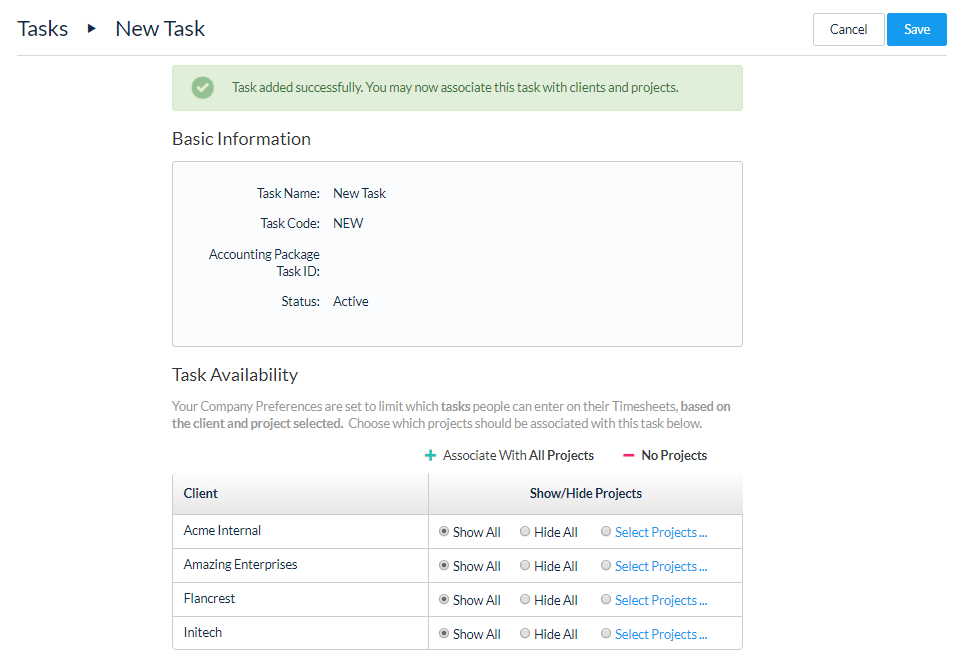 Editing an Existing Task
To edit an existing Task, click the "edit" pencil icon from the Company --> Tasks page.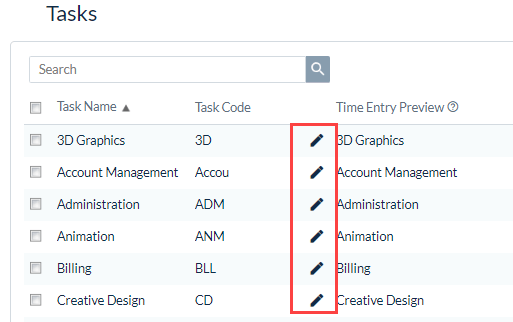 The Task Detail page is divided into three sections: Basic Information, Notes, and Billing Rates. You can edit any field in any section. Press Save to save your changes.
Please note that people can only enter time against an active Task. Therefore, inactivating a Task will prevent anyone from logging time to that Task.
The "Actions" drop-down menu on the Task Details page will have one or two additional options:

Delete Task: Use this option to delete the Task. You can only delete a Task if there is no time logged to that Task. Please note that only Administrators can delete Tasks, and that doing so is irreversible.
Download Audit Log: This will only be available if your organization is using the Audit Logging Module (details here). Use this option to download the Audit Log report (includes all information about this Task) as an Excel file.