In ClickTime, Divisions can be used to group employees who work in similar divisions/teams/etc. together. This has many benefits when it comes to reporting, giving Managers access to only those employees they should be reviewing, and setting up Project Availability.
Please note that:
Divisions are not available to organizations on the "Starter" or "Basic" plans
Once created, a Division cannot be deleted (you can inactivate a Division but it cannot be completely deleted from your account)
Employees can only be added to a Division from their Person Details page
The term Division is customizable - your local Administrator can choose a different term (such as Group, Department, etc) from the Company --> Preferences page (more details here)
Read on to learn more about Divisions or use the links below to skip to the appropriate section of this article.
Create a Division
Assign an employee to a Division
Inactivate a Division
Using Divisions
Reporting by Division
Changing an Employee's Division
To create a Division, go to the Company --> Divisions page and click "Add Division":

Next, give your Division a name. You can also enter an "accounting package id" if you export data for your accounting integration (accounting package IDs do not have to be unique). Leave the "Status" to "active" (otherwise you will not be able add any employees to the Division). Click "Save" to save the new Division, or "Save and Add Next" to save this Division and proceed with adding another one.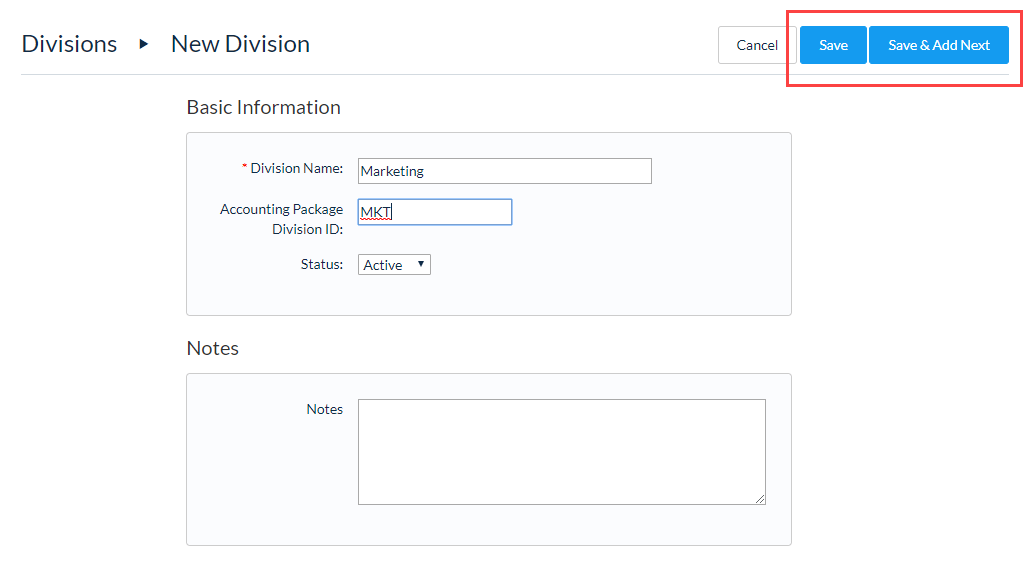 Once all of your Divisions are created, you can view the full list from the Company --> Divisions page.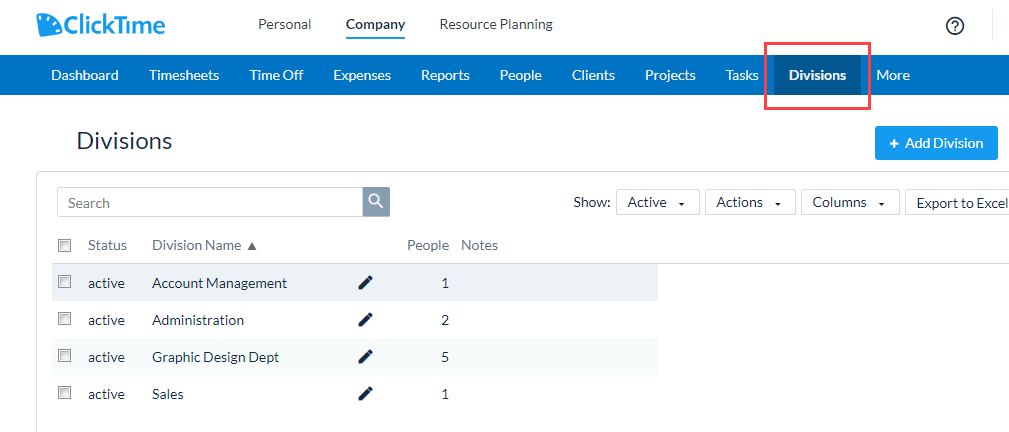 Then you can start adding employees to the appropriate Divisions.
Assign an employee to a Division
To assign an employee to a Division, go to the Company --> People page and click the "edit" pencil icon for the existing employee, or click "Add Person" if the employee is not already in the system.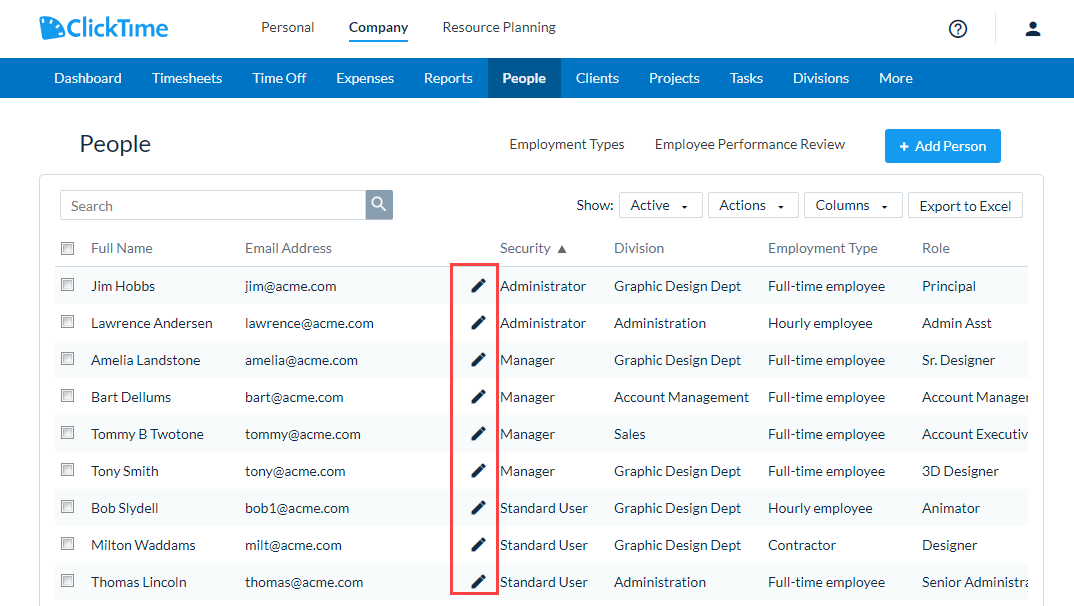 The Division option is in the "Basic Information" section of the Person Details page.
Click "Edit Section" if you are editing an existing Person. Choose the Division the employee should be in from the drop-down menu.
Finish setting up the new employee, or click "Update" to update their record with the new Division.
If you determine that a Division is no longer needed in your account, you can inactivate it from the Company --> Divisions page. Either select the name(s) of any unnecessary Divisions and use the "Actions" option to "Mark as Inactive":

or click the "edit" pencil icon for the Division(s), change the status to "inactive" and click "Save":

Anyone who is currently part of that Division will stay a part of that Division. ClickTime will show that an employee who is a part of an inactive Division on their Person Details page, but will not allow you to add any employees to an inactive Division.
You can re-activate an existing Division at any time using the same steps. If you do not see the inactive Divisions, make sure you are Filtering by "Inactive" or "Active & Inactive":
View People in a Division
Managerial Permission by Division
Project Availability by Division
To see everyone who is the same Division, you can go to the Company --> Divisions page and click into the Division you are interested in: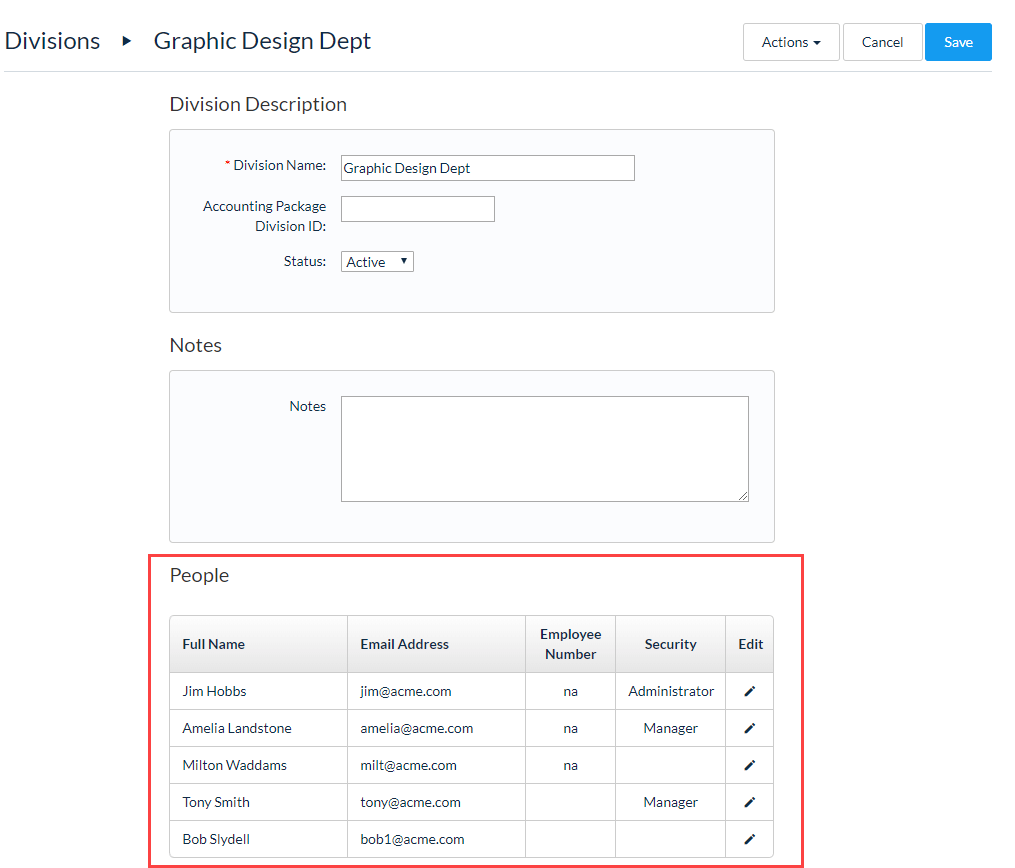 Click the "edit" pencil icon to be brought to the employee's Person Details page.
Alternatively, you can go to the Company --> People page, make sure the Division column is displayed, and sort by that column: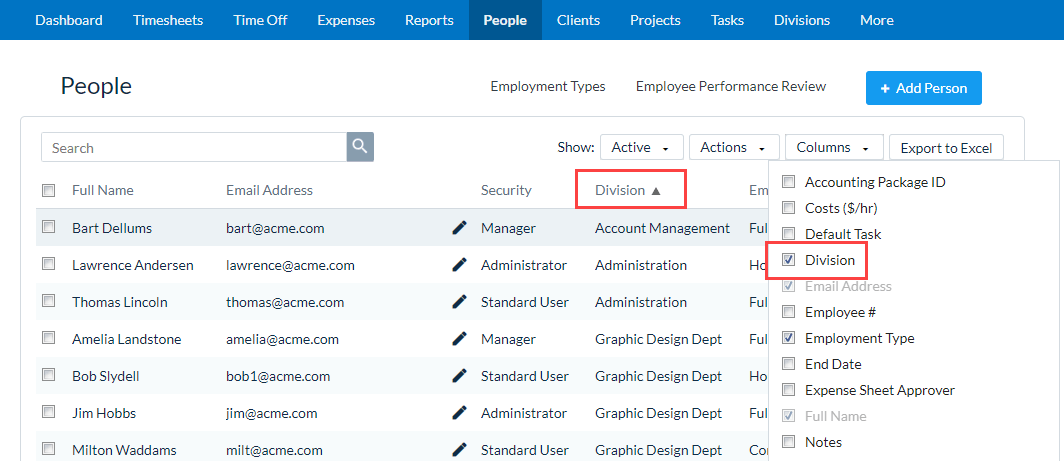 Managerial Permissions by Division
Some permissions for Managers allow them to do things for all People or just those in specific Divisions. These include the ability to Run Reports, Review timesheets, Review Expenses, and View/Edit Divisions, People, or Employment Types.
When you indicate that a Manager can only do something for someone in certain Divisions, you can select those Divisions using the options at the bottom of the Security & Permissions section of their Person Details page.
Choose the Divisions they should have access to on the left and use the arrows to move the Divisions to the right. Click "Update" when you are finished.
For more details on Security and Permissions, please see the Understanding Security Levels guide.
Project Availability by Division
When the Project List Controls are set to "Moderate - control which projects are visible to each division", you can limit certain Projects to only those people in specific Divisions. This can be done from either the Project Details or the Division Details pages.
More information can be found in the Project Availability - Moderate List Controls guide.
All of the "People" based reports will have an option to run the report by Division: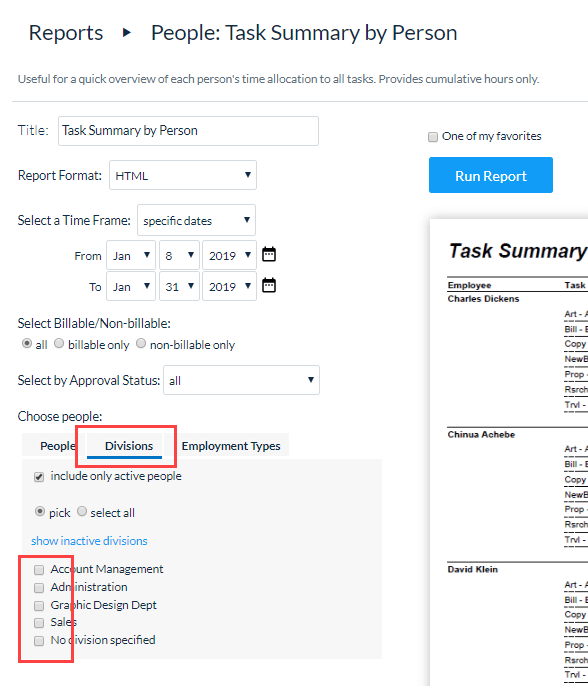 This makes it easy to run reports for everyone in a specific Division. Those Managers who can only run reports for "certain Divisions" will only see the Divisions they have access to.
When using the Company --> Timesheets page to review, you can also select everyone in certain Divisions:
Similar options appear when using the Expense Sheet Review options from the Company --> Expenses page.
Changing an Employee's Division
You can change an Employee's Division at any time from their Person Details page by simply updating this field: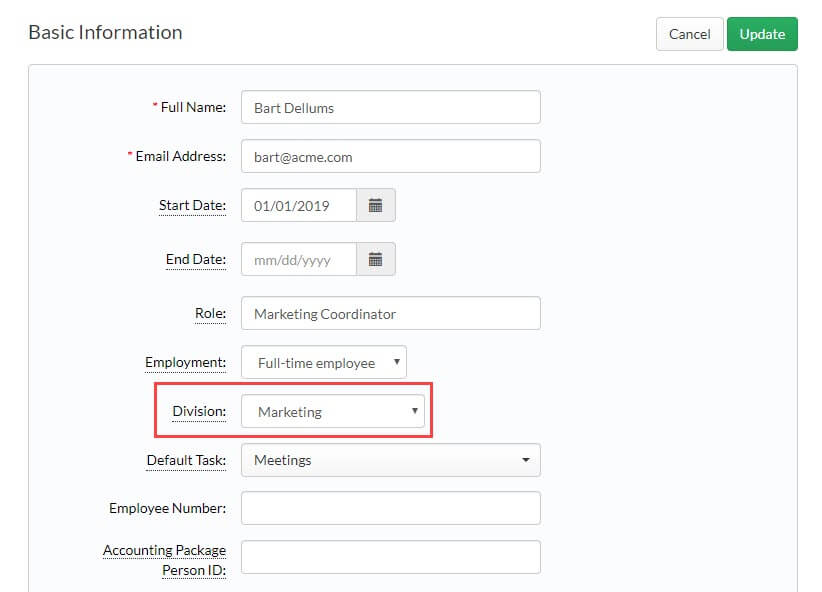 However, you should be aware that if you do so, that means all time entries the employee has logged will be associated with whatever Division they are currently in.
In some cases, employees may change Divisions based on their role at the organization. If you'd like to set up this employee so all previous time is associated with the former Division, and only the newly logged hours are associated with their new Division, we recommend taking the following steps:
First, we recommend modifying the name of the employee so it's clear which Division the record was associated. For example, "Bart Dellums (Marketing)":

Next, modify the email address for the new employee. We recommend adding a suffix to make it clear this email is for the previous Division. For example, "bart_MARKETING@acme.com":

Then, set their status to "inactive" and "Update". This will inactivate the "Bart Dellums (Marketing)" user.
Next, add a new record for the employee in the correct Division. Since you've released their email in step #2, you'll be able to set them up as you would any new employee.

You will then be able to see the difference when running future reports


Please feel free to reach out to ClickTime Support if you have any additional questions about this and we will be happy to help!