Timesheet Review 
Administrators (and Managers with the permission to "Review Timesheets") can review Timesheets from the Company --> Timesheets page.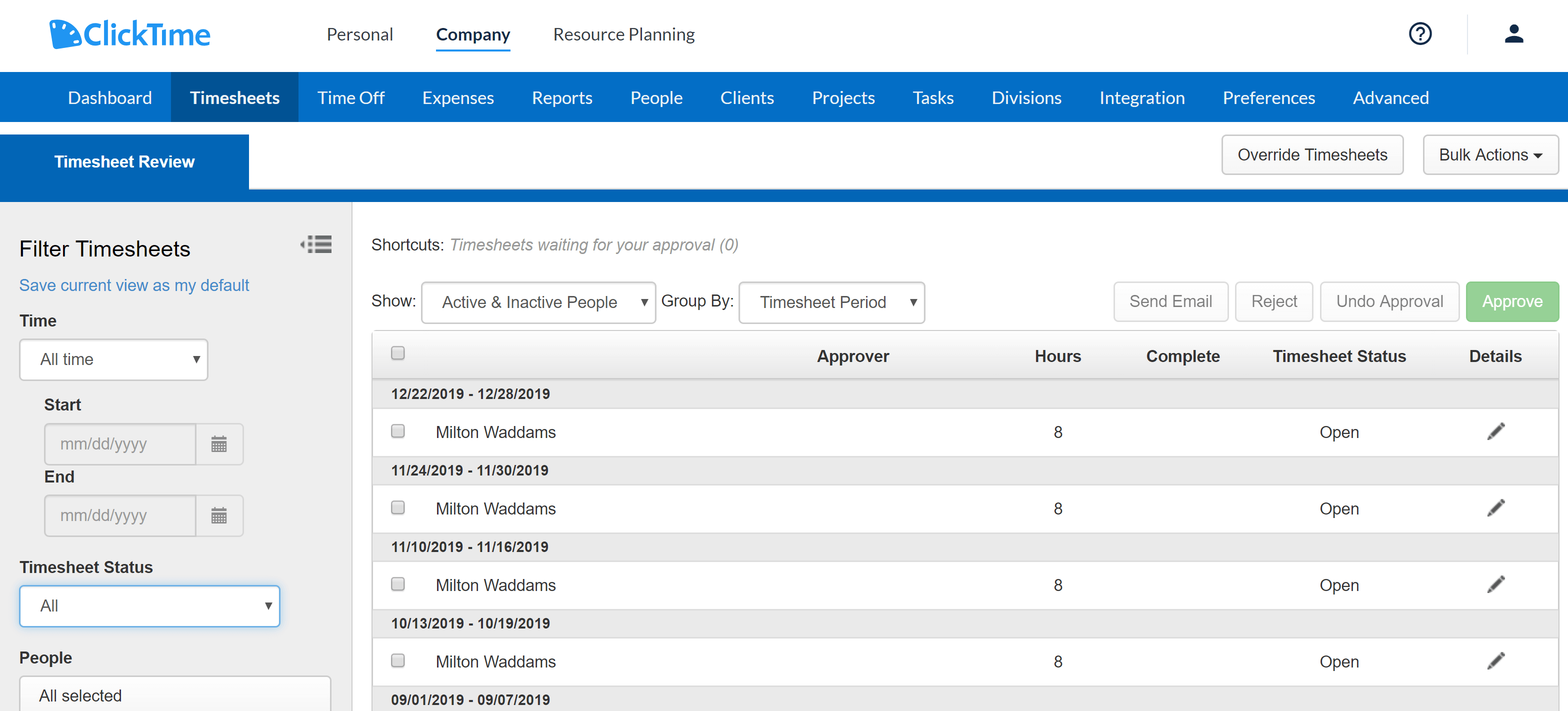 There, you can view a list of all timesheets on the Timesheet Review page, and drill down to details of any individual timesheet and see the Timesheet View page 
There are many functions you can complete from this page, and a variety of ways you can view information about the Timesheets at your company. 
Organizations that use the Timesheet Approvals Module will also want to see the Timesheet Approvals guide here.
You can use the links below to skip the the appropriate section of the guide:
Timesheet Review Options:
From the Timesheet Review page you can select the option to Override Timesheets from the upper right.

Overriding time sheets allows you to select an individual and date, and enter time as though you were that individual.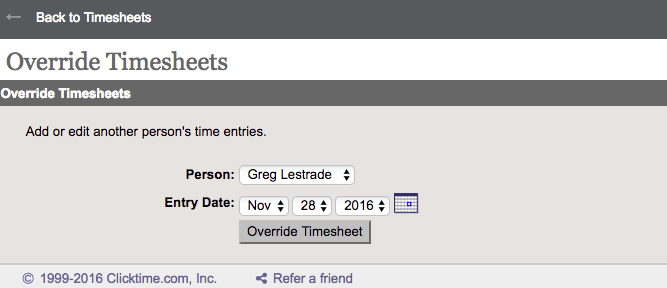 More details on Timesheet Override can be found on the Timesheet Override guide.
From the Timesheet Review page you can also opt to take Bulk Actions on the Timesheets on your list. This is especially useful for adding or editing time entries that impact multiple employees, like trainings or other events. 
You can choose to: 
Add timesheet entries - add entries to multiple timesheets at once. 
Delete timesheet entries - remove entries from multiple timesheets at once. 
Find and replace timesheet entries - find/replace entries across multiple timesheets.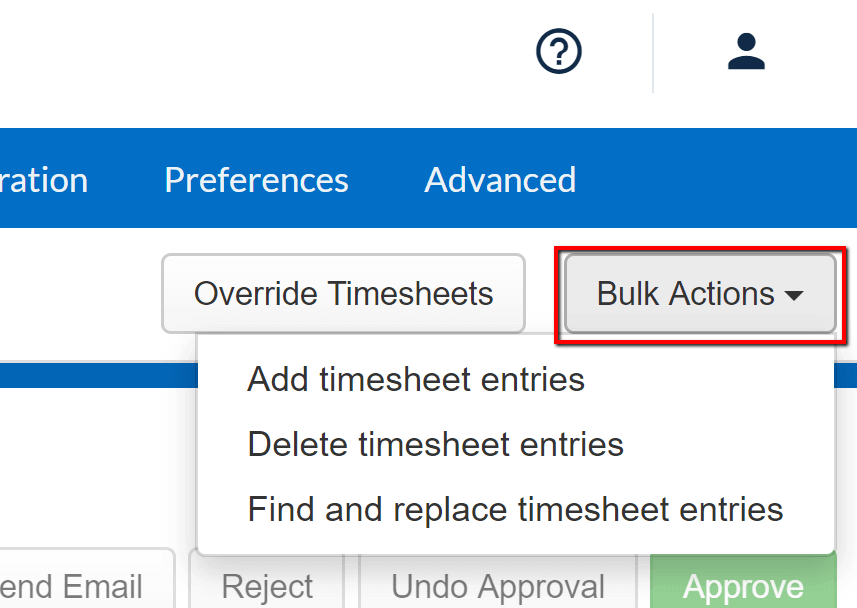 ClickTime provides flexible filtering options on the Timesheet Review page, helping you more efficiently manage timesheets awaiting review. These filters include:
Time - this allows you to select the time range of Timesheets you wish to consider.
Timesheet Status - this allows you to view All, Open, or Locked Timesheets.
People - filtering by People opens a People selection window that allows you to select individual employees and view only Timesheets for those employees. Managers will only have access to their employees.
Divisions - this allows you to select a Division within your Company and view Timesheets for that Division only.
Employment Type- this allows you to select an Employment Type within your Company and view Timesheets for that Employment Type only.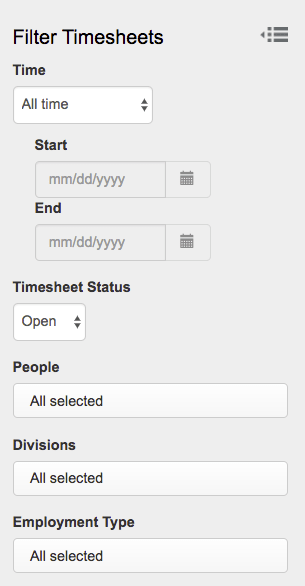 You can also change how the Timesheets are displayed and grouped on your Timesheet Review Page.

The Show option allows you to show all employees (Active & Inactive People), or to show only Active or Inactive people. 
The Group By option allows you to select how you want to group your Timesheets. These options include Timesheet Period, Person, and Approver.
Once you have selected Timesheets you can take several actions on those Timesheets. 
Send Email - this allows you to send an email to all of the Employees who have Timesheets in the selected group.
Lock - this allows you to Lock all the selected Timesheets so they can no longer be edited or updated. 

By selecting the pencil on the row with the Timesheet information, the ClickTime administrator or Manger can open any individual Timesheet to review all data included in that Timesheet.

Clicking the Pencil opens the Timesheet View. Here, you can review specific data in the Timesheet and take some actions on the Timesheet. 
You may Lock an individual Timesheet from the Timesheet view page to prevent additional edits to the Timesheet. 

Please Note: Timesheet Submit capabilities are only available to users who have the ClickTime Timesheet Approvals Module - more details can be found in the Timesheet Approvals Guide. Please contact support@clicktime.com to learn more about activating this module. 
You can also view a history of any actions taken on this Timesheet by selecting Timesheet History.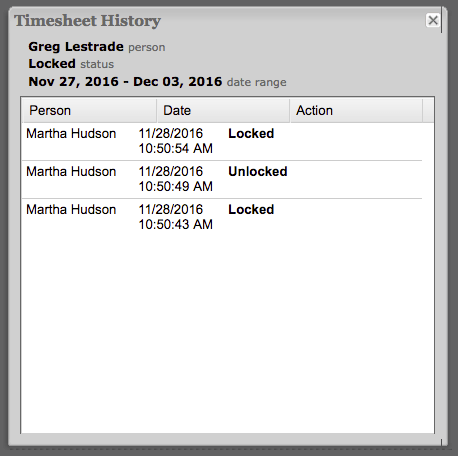 The Options menu allows you to change the level of detail displayed for the Timesheet. These Options include:
Show person details
Show client in timesheet
Show tasks in timesheet
Show notes, custom fields, and start/end/break times in timesheet

You may open a printer ready version of this Timesheet by selecting Print. The printer version of the Timesheet includes the data as displayed, so selecting different Options will also change what information is provided in the Print file. To print multiple Timesheets at a time, please visit the Reporting tab. 
You can also view all notes that have been made on the timesheet from this page. Select the option at the bottom of the page to display this information. 

Individual notes can be accessed by hovering over the note indicator in the Timesheet as well.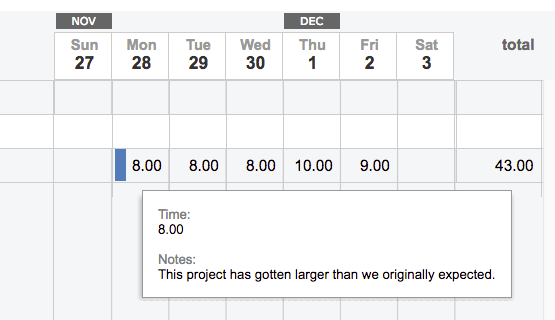 For additional questions about using Timesheet Review or any of ClickTime's features, please contact support@clicktime.com.