ClickTime offers several different methods to manage Billing Rates, including:
3 Basic Billing Rates (by Person, Project or Task used)
4 Advanced Billing Rates (set the Billing Rate by Task or Person and make exceptions)
Determining Billable Status by the Project or Task used
Setting default Billing Rates
Methods to retroactively change Billing Rates for existing time entries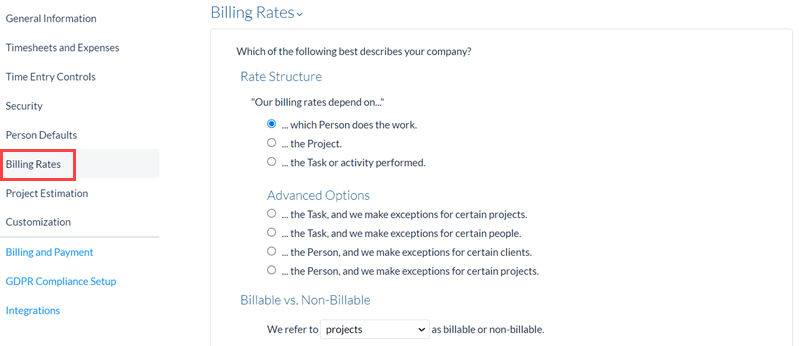 In order to see this section, you must have checked the "enable time billing features" option in the General Company section of the page: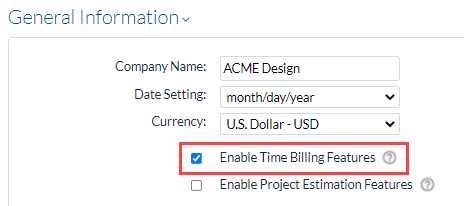 For comprehensive instructions on using Billing Rates, please see the Billing Rate Guide here.
Below the Billing Rate Structure section of the page are a few additional options:
Billable vs Non-Billable
This allows you to control how you determine whether a time entry is Billable or Non-Billable. By default, you will have the option to determine Billable status by the Project you have used to log time to:

When this is enabled, you'll see the Billable field on the Project Details page: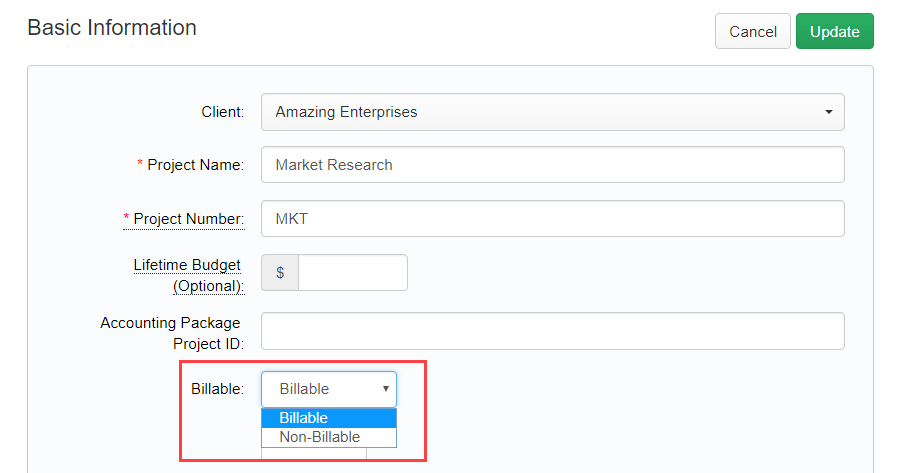 You can also choose to determine Billable Status by the Task:

When this is enabled, you'll see the Billable option on the Task Details page: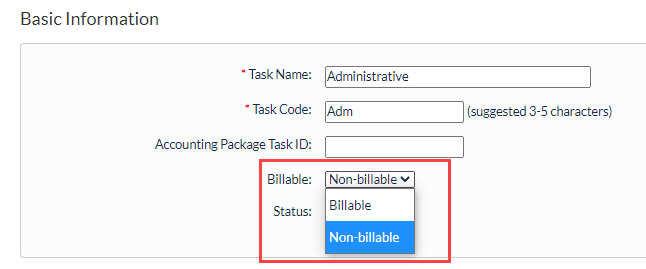 In both cases, you can see this on the appropriate List View page: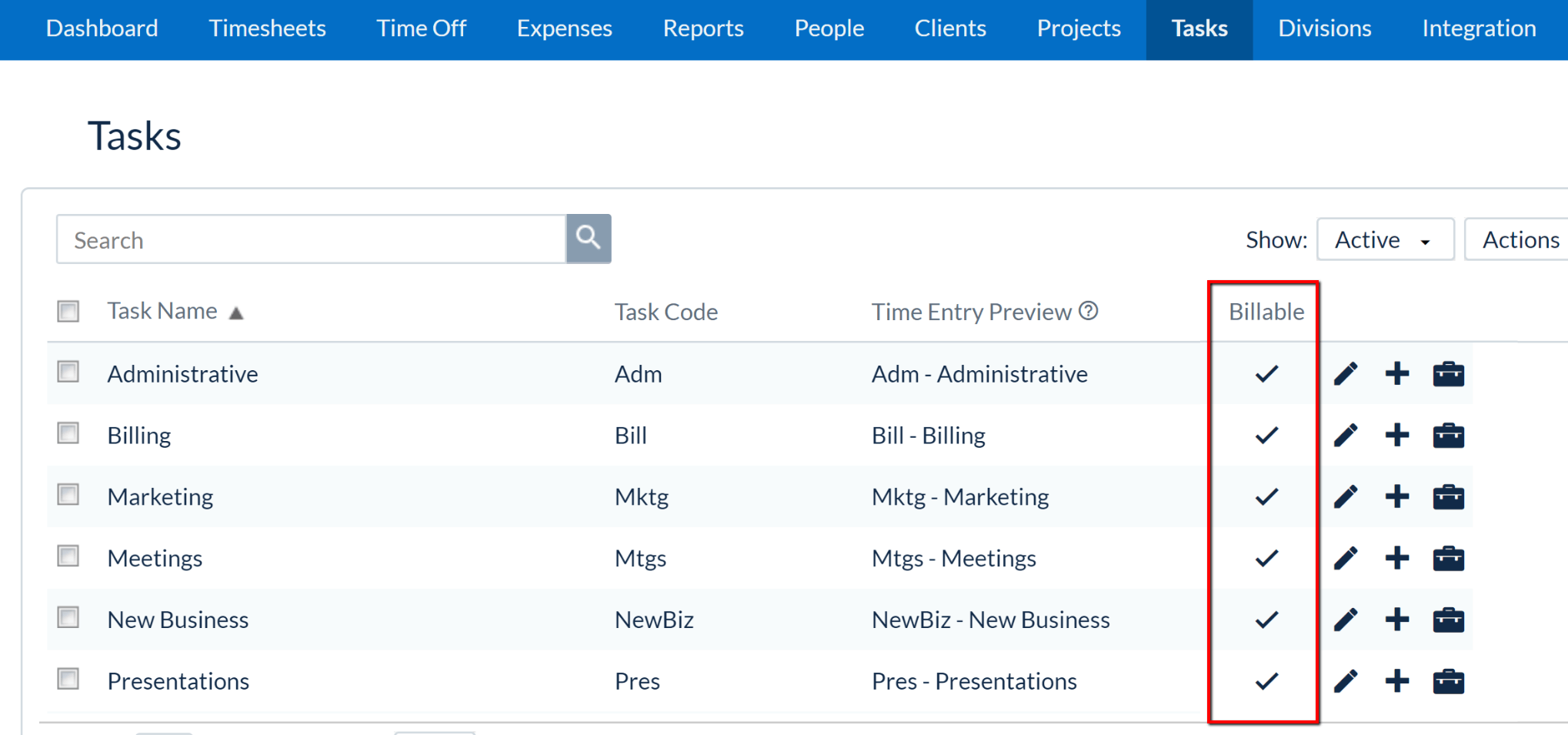 Default Rate
This is where you can determine the Default Rate:

When you add a new Person/Project/Task, you'll have an option if you want to use the default rate, or a Custom Rate: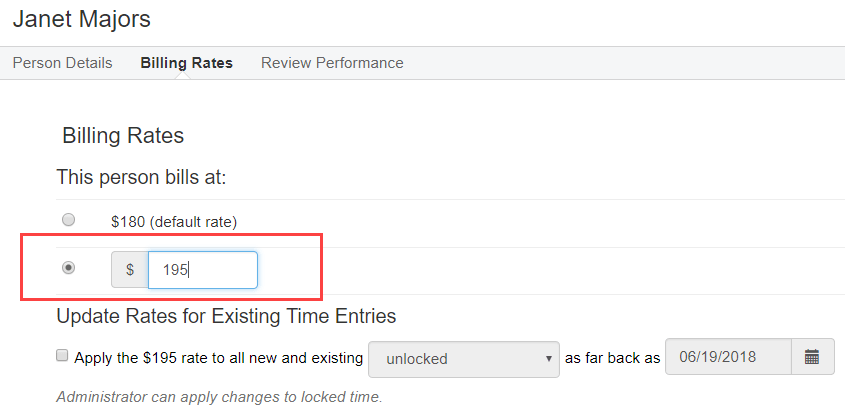 If you choose the Default Rate for the Person/Project/Task, that means if you make any changes to the "Default Rate" from the Company --> Preferences page, all "default rates" will be updated.
For example:
John is created with the Default Rate, which was $180 at the time they were put into the system: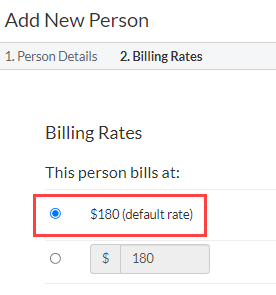 At the beginning of the next year, the Default Rate is updated from $180 to $190:

John (and everyone else using the "Default Rate") will now have the new default of $180: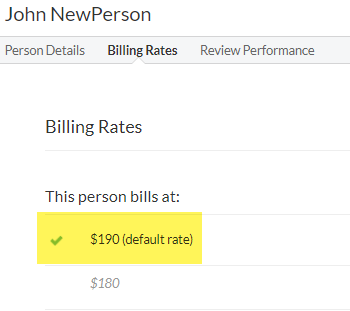 If you change the default rate, you will also have the option to apply that new Rate to all existing time entries that used the default back to a certain date:

This can also be done for specific time entries on the appropriate pages. More details and a video that explains this process is available in this help documentation.