ClickTime has two different methods to estimate the amount of time or billable amount a Project will take to complete, and track progress towards that Project. These features are available in the additional Project Insights or Resource Management modules. They require that you have opted-into using both the Billing Rate and Estimation features on the Company --> Preferences page.

These options are available in the General Company Information section at the top of the page. See here for more assistance with General Company Information.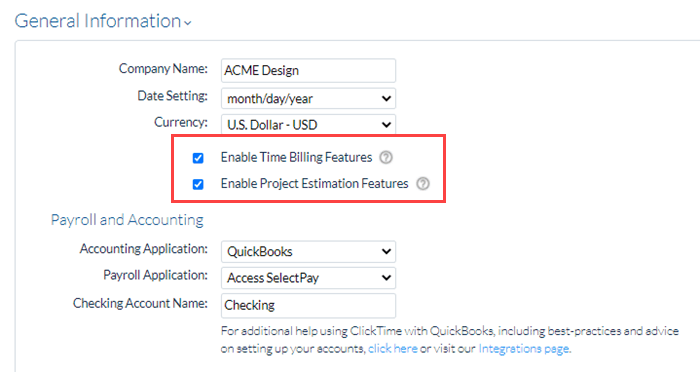 New customers may have seen the Do You Budget? tab during their free trial, which allows you to select the feature that is most appropriate:

Trial accounts that do not see this option but would like to utilize our Estimation features should contact their Account Executive directly.
If you are a current customer and are interested in utilizing our Estimation features, the method you use to budget and plan will determine which tool is the best fit for you:
Project Estimation is a simple estimation feature that allows you to track worked hours/billable amount made toward an estimate. It does not include the same robust reporting tools that the other estimation models do, but is available at no cost to all accounts. For more details, please see the Project Estimation Overview Guide.
Project Insights allows you to create a lifetime budget for the Project based on either the number of hours expected to work on the Project, or the total billable amount for the lifetime of the Project. We then track the hours/billable amounts incurred throughout the Project and give you deep insight regarding how your team is making progress. For more details, please see the Project Insights Overview Guide.
Resource Management is a tool that allows you to create monthly budgets and allocations for your team. Each month you can indicate the expected billable amount for the Project and assign the expected number of hours each employee should work. The tool also displays the expected hours to the employee so they are aware of their own progress. For more details, please see the Resource Management Overview Guide.
Existing customers can reach out to ClickTime Support if they would like a free trial of Project Insights or Resource Management.