When completing a timesheet, occasionally users may see an error that says "please fix fields in red below". This error can be caused by multiple factors and this article will help focus on some of the more common causes.
In most cases, the problematic time entries will be flagged in red:

However, there may be situations where the appropriate fields are not in red. This help article will cover both scenarios.
Time Entries are in Red
Time Entries are NOT in Red
A good first step is to hover over the time entries, because this can reveal more information about the issue:
Notes Required: If your administrator has set this for your account and Notes are omitted, this is how the error appears on the Day View page:
This is how the same error appears on the Week View page:

Omitting Required Entry Fields: If Client, Project or Task fields are left blank, the error appears this way: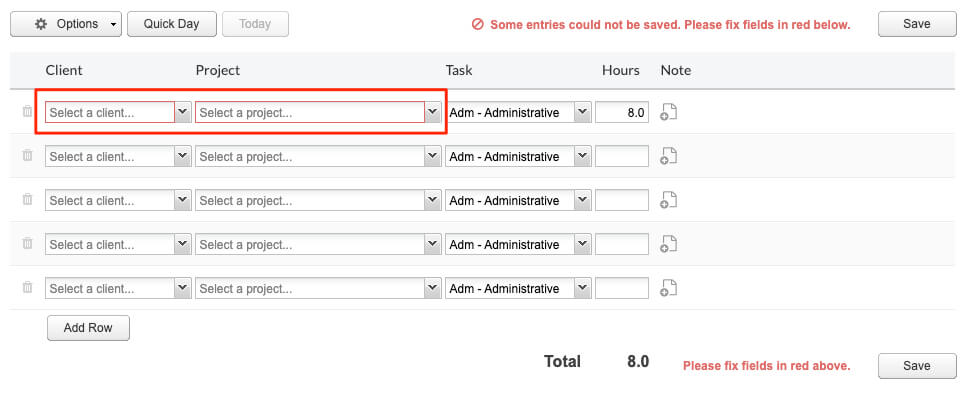 Daily Hours Entry Limit Exceeded: If a user enters more than 24 hours of time on one day (from the Day View page), the error looks like this: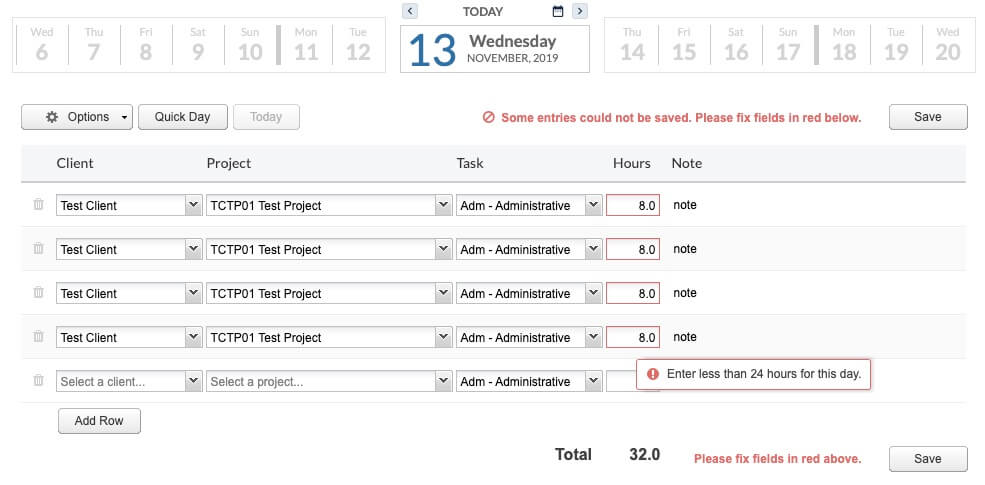 Overlapping Start/End Times: If there's a conflict in the way time is entered chronologically, you'll see the error this way:
In some cases, you may see the error "please fix fields in red below", but there are not actually any time entries hi-lighted in red. For these situations, it may be best to:
Take a screenshot of your time entries, then refresh the page
Find the time entry that isn't saving and try to edit/save it again
Open a new 'Incognito' window in Google Chrome, or 'New Private Window' in Firefox (specific browsers have different options). Here is a help article which illustrates the various options in a variety of browsers. Once you have opened have the separate Incognito or New Private Window open, go to: https://login.clicktime.com, enter your ClickTime credentials and then try to re-create and save the time entry
If you continue to experience difficulty even after trying Incognito/Private mode or get a persistent error when trying to re-create a time entry, please feel free to contact ClickTime Support and provide additional details: support@clicktime.com,including the screenshot(s) that you've taken. We would be happy to troubleshoot further with you