The Mobile Application will allow employees to submit their timesheets for review, as well as let their Timesheet Approvers review, approve, and reject the timesheets. You can download our Mobile Application here:
Google Play Store - Android Devices
App Store - iPhones
Please note that you will only be able to approve timesheets when you are set as the employee's Default Timesheet Approver. If you need to approve a timesheet that is not submitted to you, you will need to log into ClickTime and use the Company --> Timesheets page to find and review those timesheets (more details here).
Submitting Timesheets
Approving (or Rejecting) Timesheets
To view your timesheets, go to the main menu and tap Timesheets: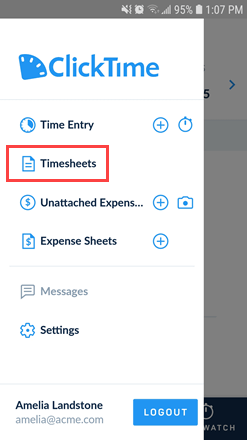 Timesheets are grouped by status, which you can choose at the top.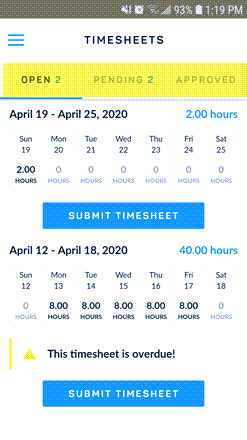 You can tap into a specific timesheet to see more information or make edits as needed.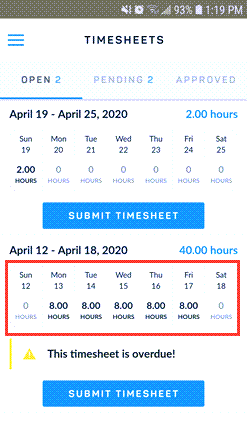 Tap the "X" to be brought back to the timesheets screen.
The "Open" tab will indicate if a timesheet is incomplete or overdue. To submit a timesheet, tap "Submit Timesheet".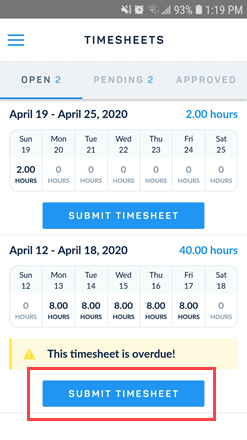 You'll see the date range for the timesheet, the total number of hours and the name of your Approver. You can then enter an optional note and tap "Submit"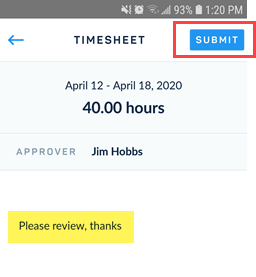 You'll see a confirmation message that the timesheet was submitted and the timesheet will now display in the "Pending" section of the timesheets screen.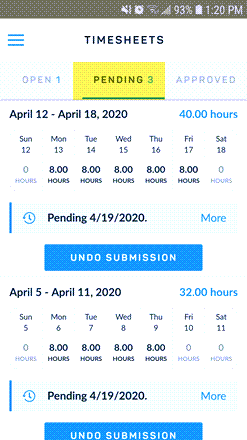 If you need to make a change to a "pending" timesheet, tap the "Undo Submission" button.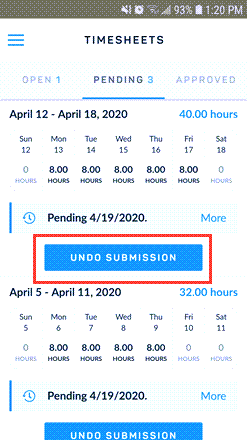 Confirm you want to revert the timesheet to "Open" by tapping the "Undo" option.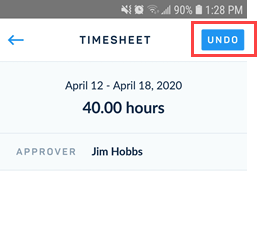 The timesheet will then move back to the "Open" section where you can make changes and re-submit it.
Approved timesheets will move to the "Approved" tab. You can tap into them to see when they were approved and if any notes were submitted by your approver.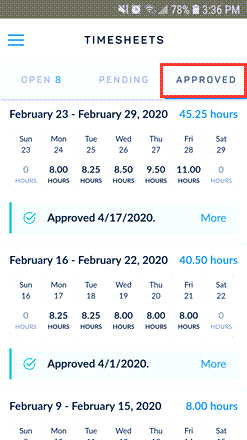 Rejected timesheets will show up in the "Open" tab with an indication that it was rejected.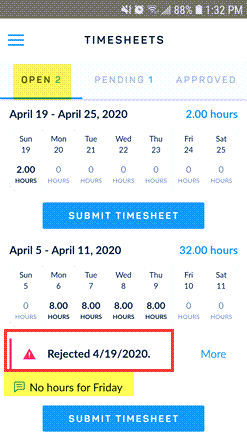 Tap "More" to see who rejected it, when, and the comments they added when it was rejected.
Please note that you will not be able to submit a timesheet in offline mode.
Approving or Rejecting Timesheets
The main menu will show you if you have any timesheets that are waiting for your review. Tap "Approve" to see the timesheets that have been submitted by your staff.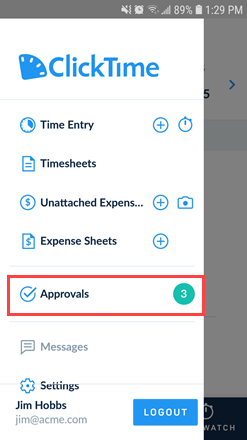 They will appear in chronological order with a calendar summary of the total hours.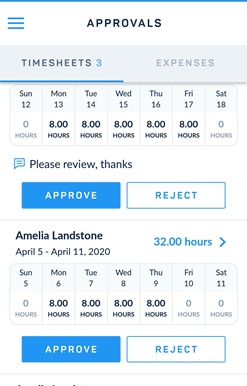 To see the time entered on a specific day, simply click on the date.
To Approve, tap the blue "Approve" button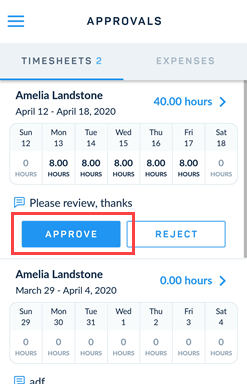 which will show you the date range and total hours. You can enter an optional note and then tap "Approve" Timesheet.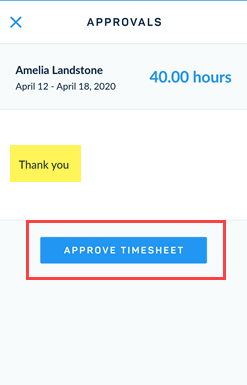 To reject the timesheet, tap "Reject"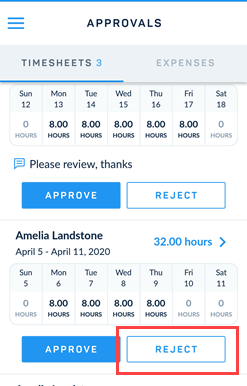 which will open a similar page. You will have to enter a note before tapping "Reject Timesheet".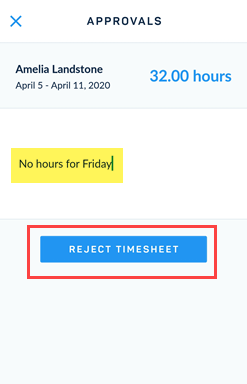 Once every timesheet has been approved (or rejected) the Approvals screen will read "No pending approvals."