The ability to share reports in BI&A is flexible & granular. When creating a report, you can choose whether to share it with:
Just Administrators
Just Managers
Both Managers and Administrators
Specific individuals
You can also set up different levels of access to the report for different people or groups of people (eg, full access vs view only) For example, you can allow all the Administrators in your account to edit the reports you created as needed, while Managers interact with your reports in a much more limited way.
How to Share Reports
Permission Levels
Select the bottom most icon on the left hand bar in Design mode to navigate to the Access and Sharing page.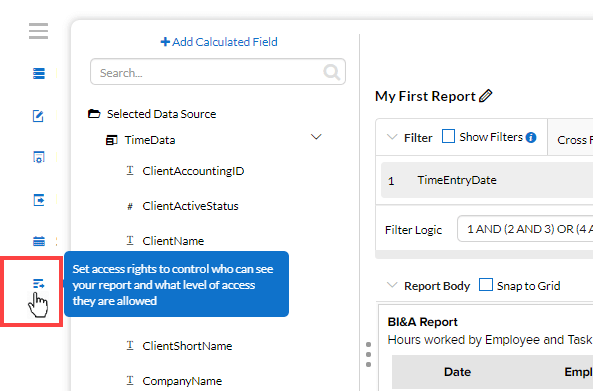 Press the "Add Sharing" button to populate a new row of a sharing rule:

You'll now be able to choose who to share with. For example, If you would like to share the report with different user Roles (Admin/Managers), choose "Role"

Then click into the "Select" field:

And you will see the different options. Here we can share the report with all Managers (that have Reporting access) as well as every Administrator in the account. We'll select the "Admins" and then click "OK":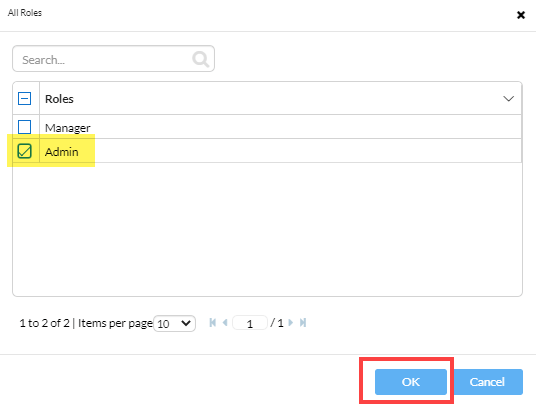 Next, click into the "Access Rights" option and choose the type of access you'd like the Administrators to have. We'll give the Administrators Full Access to this report.

Another option would be to give access to a specific person. Below, we've given our employee Ethan Good "View Only" access to the report, so they can see the data but not make changes.

Once you've set up the permissions the way you'd like, remember to "Save" your changes in order to share your report.

Note: In the "Owner" section in the upper right hand corner, you can view who owns this report. If you would like to change the owner of the report, select the + button, choose a new owner, and press OK.

| | | | | | | |
| --- | --- | --- | --- | --- | --- | --- |
| Action on Shared Report | Full Access | Quick Edit | Save as | Locked | View Only | No Access |
| View the report and interact with filters | ✔ | ✔ | ✔ | ✘ | ✔ | ✘ |
| View the report with NO filter interaction | ✘ | ✘ | ✘ | ✔ | ✘ | ✘ |
| Modify the report in Quick Edit Mode | ✔ | ✔ | ✔ | ✘ | ✘ | ✘ |
| Modify the report in Design Mode | ✔ | ✘ | ✔ | ✘ | ✘ | ✘ |
| Save changes in the report | ✔ | ✘ | ✔ | ✘ | ✘ | ✘ |
| Save As changes in the report | ✔ | ✔ | ✔ | ✘ | ✘ | ✘ |