The Company Holiday feature can be used to create and manage lists of local holidays, national holidays, and company-wide events for everyone in your company, or for people in specific Employment Types. Holidays created with this feature are automatically added to Timesheets, and the resulting time entries can then be conveniently managed "in bulk" from the Leave Type Detail page.
Access to the Company Holiday feature requires the additional Time Off Management features that are currently available to Team (and above) plans. Please contact ClickTime Support if you would like to discuss upgrading so you can use these features.
Please Note: "Company Holiday" Leave Types are not currently supported for organizations who have DCAA Compliance enabled.
"Company Holiday" Leave Types are also not currently intended to be exported via the ClickTime Connector for QuickBooks at this time.
You can learn more about the Company Holiday feature using the following links:
Company Holiday Timesheet Entries
Editing Holidays for One Person
Editing Holidays for All People
Deleting Holidays for All People
Creating and Editing People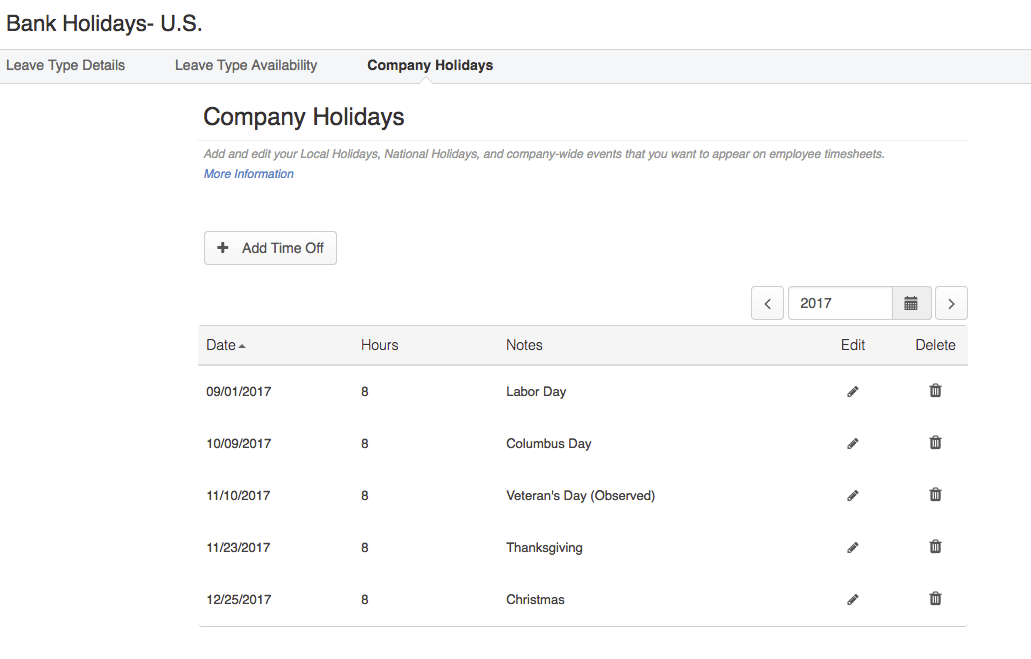 Creation and management of Company Holiday Leave Types requires Administrative access for the ClickTime account.
Please note: You will need to create a new Leave Type in order to set up Company Holidays. The option to use an existing Leave Type for pre-populated Company Holidays is not currently supported. If you already have a Leave type called "Company Holiday", we recommend changing the name of the current Leave Type to something different (such as "Previous Company Holiday") and setting the status to inactive, as ClickTime requires a unique name for each Leave Type).
Organizations that signed up for a ClickTime demo after November 2017 will have a default "Company Holiday" Leave Type already available in their account. Please skip to this section of the article for assistance using the pre-existing Company Holiday Leave Type.
Organizations with access to the Time Off Management Module that signed up for ClickTime prior to December of 2017 will need to create a Company Holiday Leave Type before they can assign Holidays. This can be done from the Company --> Preferences --> Leave Types page:

Before creating a Leave Type with the Company Holiday category, we recommend making sure there is not an existing Leave Type with the name "Company Holiday in your account. If there is, please modify the name of that Leave Type and set it to "inactive", as ClickTime requires a unique name for each Leave Type.
After doing so, click "Add Leave Type":

Next, set up your Company Holiday. The name is required and you will need to select the "Company Holiday" Category. All other fields are optional.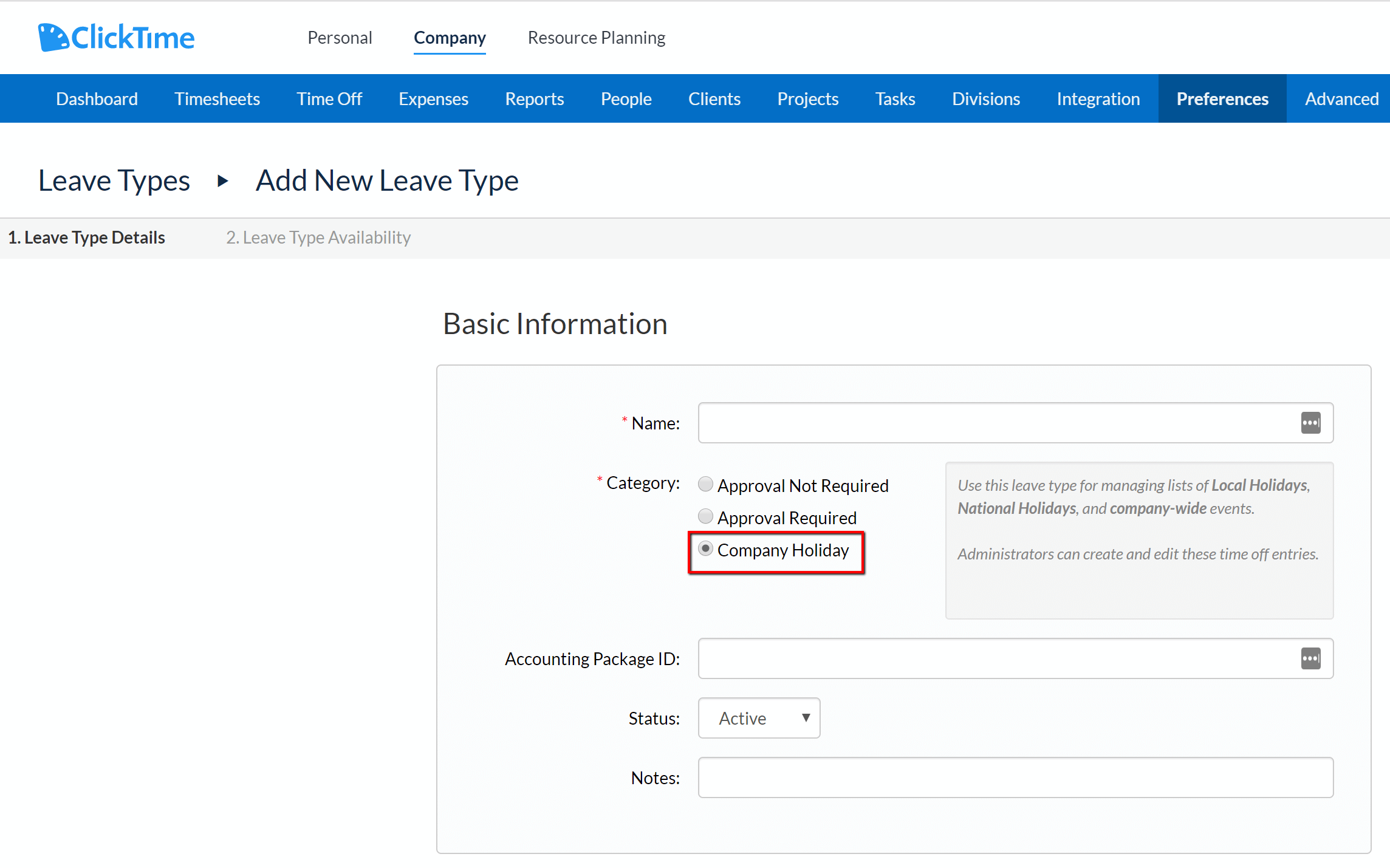 Click "Next" to go to the Company Holidays tab. This is where you can start creating holidays that will be added directly to Timesheets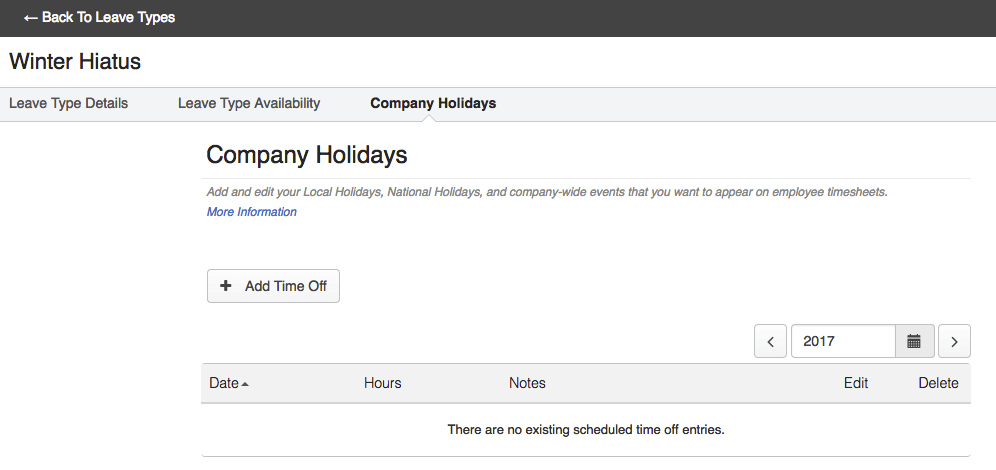 On the "Company Holiday" tab, you can specify the dates, number of hours, and notes for each holiday entry that should be associated with the Leave Type. We recommend creating one Leave Type per list of associated holidays. For example, you may want to create one list for "National Holidays," and use that Leave Type to manage all standard holidays for your region.
When you are ready to create Company Holiday time entries, click "Add Time Off", or use the "Company Holiday List" option discussed below to start from a list of popular Company Holidays.

A form will open that allows you to choose a date, specify the number of hours, and enter notes for one holiday entry at a time. We suggest putting the name of the holiday in the (optional) "notes" field.

When you are ready to add these as time entries, click the "Add to Timesheets" button. The ClickTime system will immediately start adding time entries for this holiday to all available Timesheets, which will be visible as "locked" time entries for all employees who can access that Leave Type.

To add additional holidays, click "Add Time Off" and create any additional Company Holidays for this Leave Type.
NOTE: If you have Leave Type restrictions enabled in your company, you will be asked to select Leave Type availability before entering holiday dates. If you do not choose a Leave Type, you will be able to move to the next step (creating holiday entries), but those entries will not be added to any Timesheets until you define Leave Type availability. For more information about Leave Type Restrictions, click here.
Pre-set holiday lists allow admins to populate their organization's Company Holiday leave type with a list of standardized holidays from a specific locale and year.
Below is a list of Supported Holiday Lists:
Australian Stock Exchange
Canada Statutory Holidays
London Stock Exchange
New York Stock Exchange
Toronto Stock Exchange
U.S. Bank
Once you've created your Company Holiday, you can populate it with a pre-set holiday list. To get started, select "Choose Holiday List":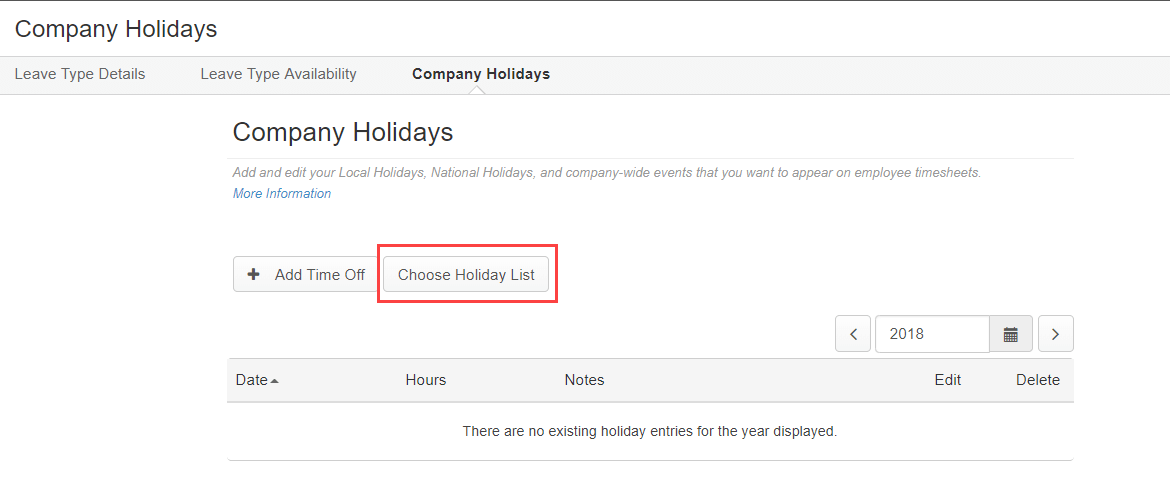 To apply one of the above lists to your organization's Company Holiday leave type, start by selecting your desired list from the "Choose a List" menu.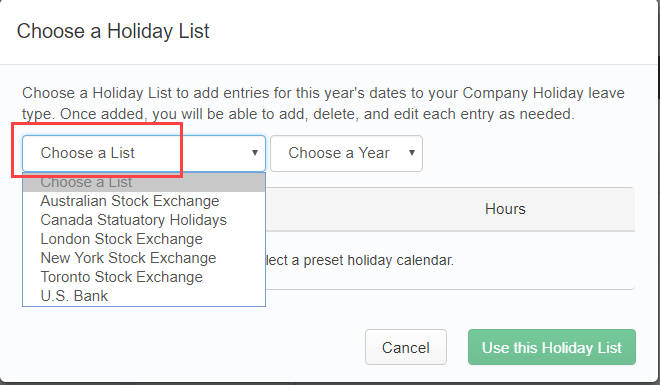 Next. select the corresponding year for which you want the holidays to be applied. It will automatically default to the current year, but you can choose from up to two years in the future.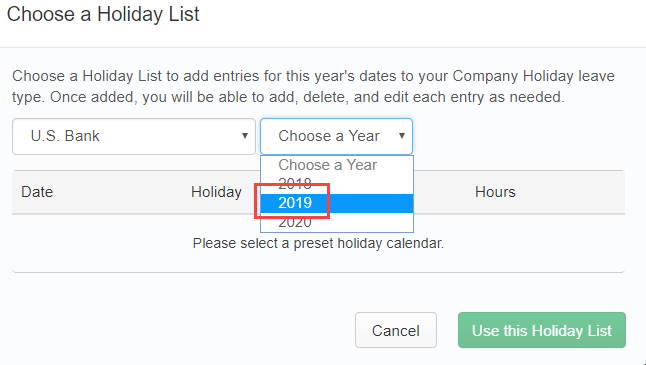 Once you've selected the list and the corresponding year, select "Use this Holiday List"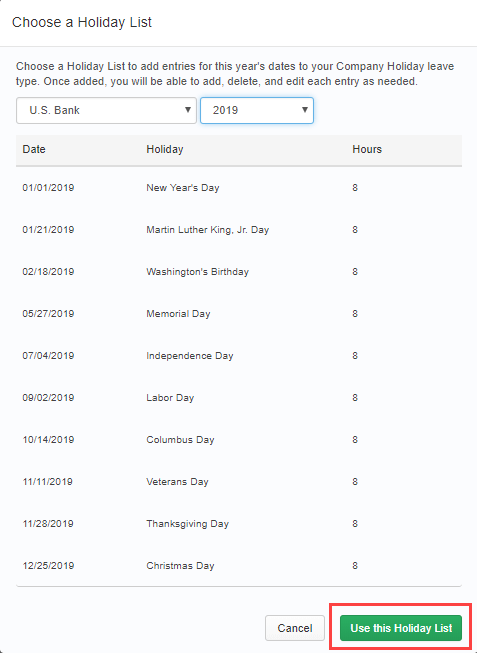 and the list will populate your Company Holiday leave type.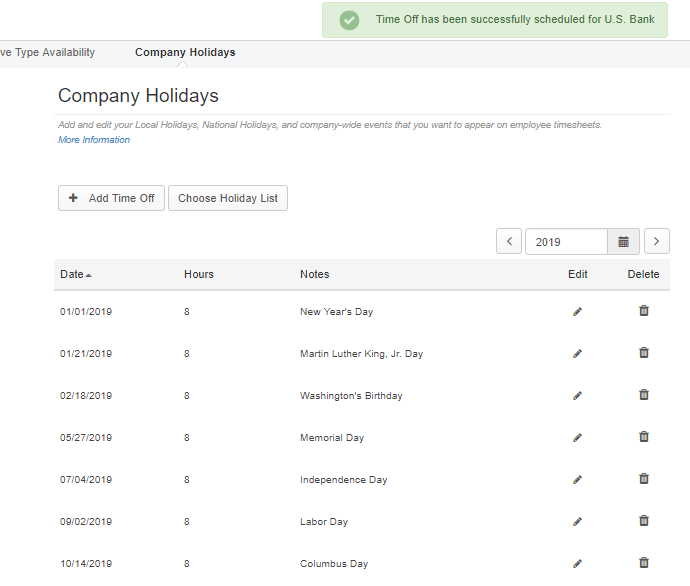 NOTE: Holidays in the pre-set list will not be added if they conflict with a pre-existing holiday in that leave type. Additionally, any holiday from the pre-set list that predates your company start date will not be added.
Company Holiday Timesheet Entries:
ClickTime will start adding Time Off entries to employee timesheets as soon as you click "Add to Timesheets" or "Use this Holiday List". Time entries will be added to all open Timesheets for all active people. Time entries will not be added to:
Timesheets that have been submitted, locked, or approved
Timesheets that belong to people marked as "inactive"
Timesheets before or after a person's start/end dates
It may take several minutes for these entries to appear on all Timesheets in your account. If you do not see them on timesheets immediately, please try again in a few minutes.
Company Holiday entries will appear as locked entries on Timesheets. The following is an example of a Company Holiday entry on the Day View page, as seen by the Timesheet owner.

Editing Company Holiday Timesheet Entries For One Person
The Company Holiday feature allows Administrators to add the same locked Time Off entry to multiple timesheets at once. If certain employees' timesheets should reflect a different number of hours for any reason, Administrators (and Managers with "Timesheet Override" permissions) can edit Company Holiday entries on a per-person basis using the "Timesheet Override" feature. The following changes to Company Holiday entries are allowed via "Timesheet Override":
Delete Entry
Edit Hours
Edit Notes
To edit a specific user's timesheet, first go to the Company --> Timesheets page and click the "Override Timesheets" option:

Next, choose the employee and date you'd like to edit and click "Override Timesheet":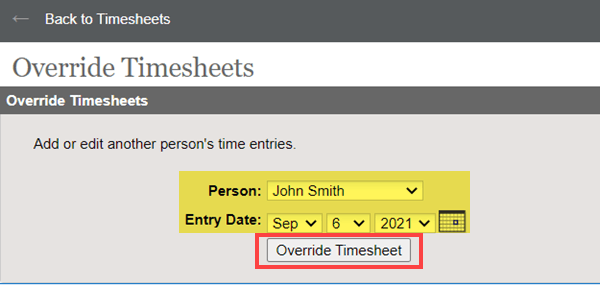 You can now either delete the time entry using the "trashcan" icon, or make edits to the number of hours/notes field:

More details on Timesheet Override can also be found here.
If you have manually deleted a Company Holiday entry from someone's record but later determine you need to add it back to their account, go to edit the Company Holiday Leave Type:

From the Company Holiday tab, click the "edit" pencil icon: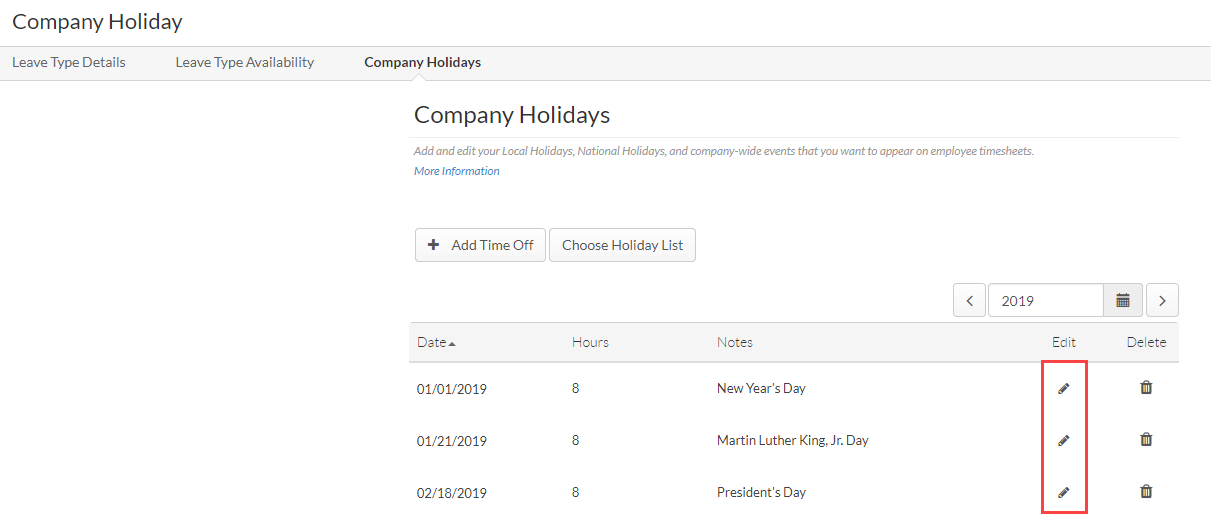 Then click "Update":

This will add the time entry to every employee who has access to the Leave Type without creating duplicates.
Editing Company Holiday Timesheet Entries For All People
Any changes made to a Company Holiday on the Leave Type detail page will automatically update corresponding timesheet entries on all open timesheets, making it simple to manage changes to your holiday schedule from a central location.
Editing a Company Holiday Entry will update entries on open timesheets for Active people even if their individual entry was previously modified via Override.
Making a Company Holiday Leave Type inactive will have no impact on existing timesheets, but will prevent new people added to the system from inheriting any of the holidays associated with that leave type.
Deleting a Company Holiday Entry will remove entries from open timesheets for Active people.

If you have any situations where a Company Holiday was not added to an employee's timesheet when the Company Holiday was initially created, you can use this method to post the Company Holidays to those employee's timesheets. For example, if a timesheet was approved when the Company Holiday was created, the hours would not be added to the timesheet. Rejecting the timesheet and then updating the Company Holiday in his manner will allow the hours to post to the timesheet, which can then be re-approved.
Deleting Company Holidays for All People
If a Company Holiday was created incorrectly (or during a test of the feature and you've decided not to use those entries), you can go to the Company Holiday Details page and use the bulk "delete" option to remove the time entries from all open timesheets.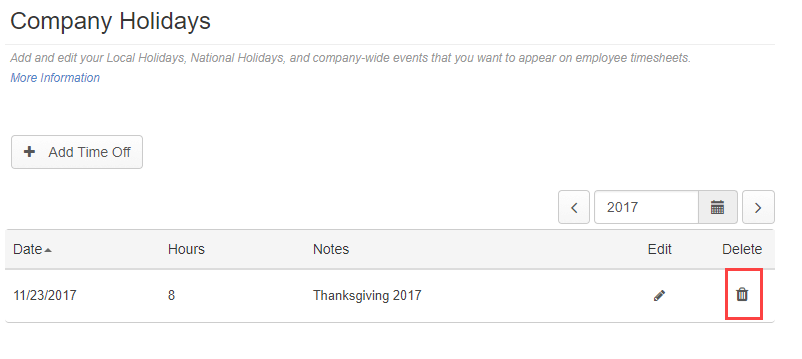 If a timesheet with the Company Holiday has been submitted/approved, the timesheet must be returned to an open or rejected state in order to use this feature to delete the time entries. If they were deleted while the timesheet was submitted/approved, the time entries will need to be deleted manually (which will require unsubmitting or rejecting the timesheet).
Once Company Holidays are created, every person added to the system will automatically have Company Holiday time entries added to their timesheets, providing they meet the following criteria:
The Company Holiday takes place after their Start Date and before their End Date (if they have Start or End Dates set on their record when they are created)

If no start or end date is provided, people will receive all holidays (including ones for prior years)
If only one date is provided, holiday entries will observe that date boundary
For this reason, we strongly recommend entering a Start Date if you are going to use the Company Holiday Leave Type

When Leave Type List Controls are enabled (more details here), the employee must be set up as a part of an Employment Type that has access to the Company Holiday Leave type. In companies using leave type list controls, people will receive only holiday entries available to their Employment Type

If the Employment Type is changed after they have been set up, they will inherit any Company Holidays available to their new Employment Type
NOTE: Inactive people will not inherit Company Holidays, and locked/approved or submitted Timesheets will not receive new entries.